Below are extracts from   'My Life Story, Emily the Shareefa of Wazan',  the remarkable account of Emily Keene's marriage to the Sharif of Wazzan,  Hadj Ahmed Ben Abdeslam, an exalted and powerful religious leader in Morocco directly descended from the Prophet Mohammad,  published in 1912.
Arriving in Tangiers aged 21 in 1871,  she married the Sharif 2 years later,  bore him 2 sons and they divorced 14 years later.  They lived mostly in the Dâr Damânah, the zaouia and her own house in Tangiers,  as well as occasionally in zaouias in Algeria.  His former wives and children from those earlier marriages lived in Ouezzane.
The Sharif of Wazzan,  Hadj Ahmed Ben Abdeslam,  died in 1891 at the zaouia  Wazzâniyyah in Tangiers with Emily by his side.
These extracts provide fascinating insights into both their lives together and society in Morocco at that time,  including the beginning of their relationship,  the birth of their first born son Moulay Ali ben Abdeslam, who was to succeed his father as the Sharif in 1891,  the death and funeral of Lalla Heba,  the Sharif's daughter from a former marriage, their own marital decline,  separation and eventual divorce.   The unique spiritual and secular role of the Sharif,  his relationship with his followers and provision for the poor is described.  The Sharifian dynasty and the origins of the town of Ouezzane is explained.   Information regarding the creation of  the concept of Dâr Damânah,  the House of Surety,  is also provided.  Also some of the common superstitions and cures of the day are considered.
Finally the Sharif's death and burial,  and Emily's experience of that,  is movingly documented.
Emily Keene died in 1944 in Tangiers.  A commemoration plate can be found in St Andrews church in Tangiers and she is interred in the cemetery of the Dâr Damânah in the Marshan.
The photographs in between the quotations are of the courtyard garden of Dâr Damânah in Ouezzane,  taken in September 2019.
Extracts from  My Life Story, Emily the Shareefa of Wazan
Who, then, was this man who has fascinated me ? I used to meet him coming from town, or returning to the mountain, where I was staying with friends, and at length I learnt that it was the Grand Shareef of Wazan, but that did not convey much to me.  I made a closer acquaintance at some musical soirees, which he attended. I certainly thought I liked him, he was so different from the few other Moors I had met, but the idea of marriage never crossed my mind ; in fact, until he proposed, I did not realise that he contemplated doing so.

Thanking him for the honour, I refused on the ground of religion, and also because although I admired him, admiration was not love of the kind that should end in partnership for life. He gave me a month to reconsider my decision, and started for Wazan to attend the marriage of his two sons. His absence taught me that I really cared for him more than I had thought, and such being the case I made further inquiries. A Consul-General, a great friend of the Shareef's, told me who he was and of his European predilections; how he was determined to marry a European, and had even divorced his Mohammedan wives to attain that end. I learned that the Shareef was a lineal descendant of the Prophet Mohammed in fact in a more direct line than the reigning Sultan of Morocco, and that his social position admitted his taking a European wife, to which may be added that the Koran acknowledged such unions.

It was not until I had persuaded myself that life would be impossible without him, that I made these personal inquiries, for I had no one to make them for me. On receiving a third letter from the Shareef from Wazan, I decided to accept him, whereupon, in order to communicate with my family in England, he returned to Tangier before his sons' wedding festivities were concluded.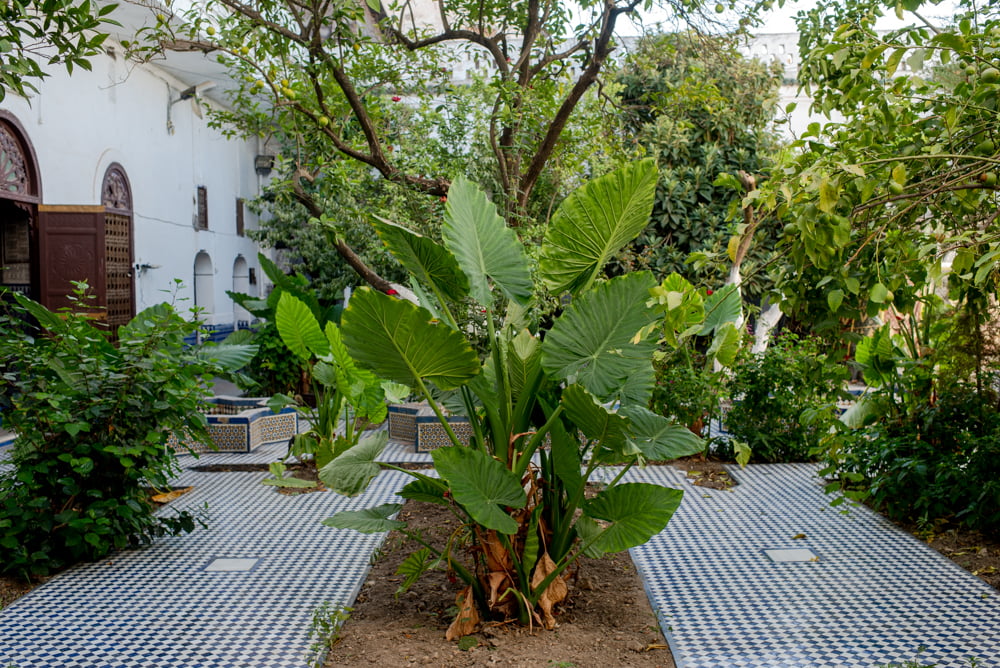 To a Shareef's house, which is a Sanctuary, rich and poor flock to be assisted in their different troubles. These refugees and suitors would remain for varying periods, from a few hours to some months, according to the time their affairs take to arrange. A mother or wife might be pleading for a son or husband in prison, another might be seeking redress for cruelty from some member of the family, another might have been unjustly imprisoned by Government officials.

There we saw the litigant, the deserted wife, the sick, the barren woman, all seeking consolation by blessings. Once the suppliants have taken Sanctuary, all these matters have to be taken in hand by the head of the house, and inquiries must be made as to the authenticity of the several clients' demands. Letters to the Sultan for intercession seldom failed to ameliorate the condition of the person concerned, and interviews by proxy with local authorities, European and Mohammedan, were of daily occurrence. Food and lodging had to be supplied to all those who sought Sanctuary pending the solution of their grievances. Offerings generally in kind are brought by some people. There may or not be a surplus, consequently one's banking account is always at the mercy of sudden applicants for some form of assistance.

This custom has existed from time immemorial, and to ignore it would be death to the prestige of the Wazan Shareefs, whose influence is so powerful from one end of the Moorish Empire to the other……. Three days is supposed to be the limit of these visits, and the only method of giving them a hint that you are embarrassed by their presence is to diminish the quantity and quality of their food. Even then there are some too dense to take the hint. In the Shareef's  lifetime barley was supplied to the animals of notables, but since his death I gradually omitted that, and now only in very extreme cases do I give sufficient for saddle-horses or mules as the case may be. But for the unsolicited offerings, it would be impossible to keep up a custom extending over thirteen hundred years.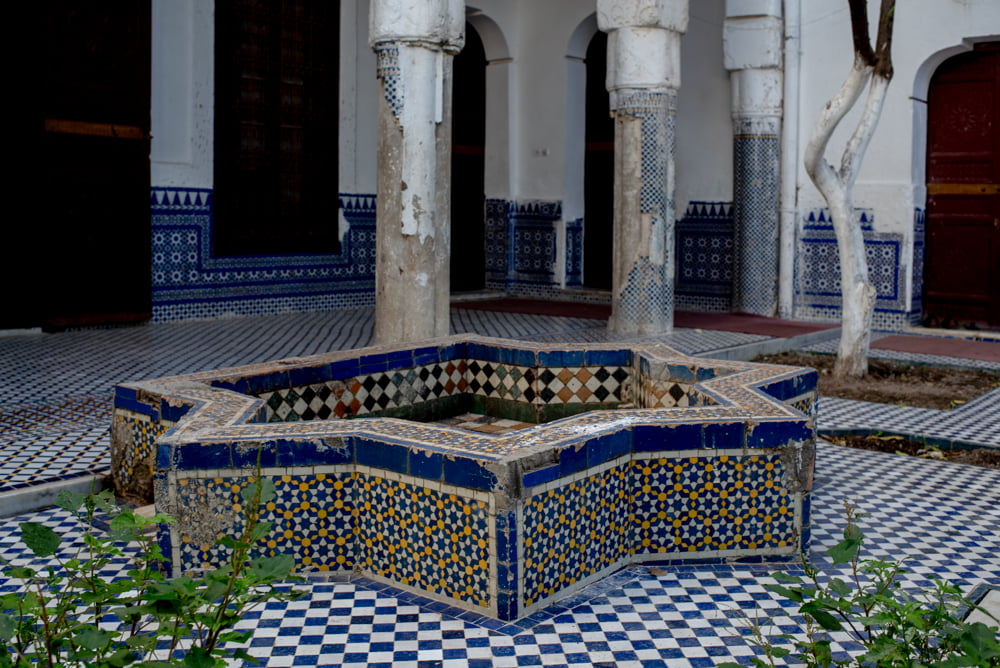 The name is given to a Moslem child on the eighth day of its birth, though I believe the seventh is the right date. On the morning of the ceremony a large ram is sacrificed, and this is generally slaughtered by a near relative, who pronounces the child's name when cutting the animal's throat, in presence of invited guests. After, the male guests assemble in a large room, where tea and cakes form the first portion of the feast. A sumptuous luncheon follows. When the guests are numerous, as in the case of Muley Ali's fete, they are served by relays, and I was told that it was late in the afternoon before all were supplied.

Their number amounted to several hundreds, and the poor were not forgotten. Inside the house the lady guests assembled ; a few were brought to my room to congratulate me personally. Although I did not see the densely packed rooms and the ladies in their gorgeous dresses, decked with jewels, I heard the noise, for the female musicians were seated in the centre of the house. The continual din can well be imagined, for Moorish instruments are untuneful and primitive. My mother, taking advantage of a lull in the rejoicings, carried the baby down to show to the guests. She little expected such an ovation as she received from the people, who started the music and "zahrits," or joy-cry, to their hearts' content.

Fearing to startle the child, my mother beat a hasty retreat, which was no easy matter. Never had a Shareef been exposed to the public gaze so early in his life, for fear of the evil eye. The women especially are very superstitious ; the Shareef was not so at all, though I know many men who believe most implicitly in this influence, attributing to it sickness and other disasters.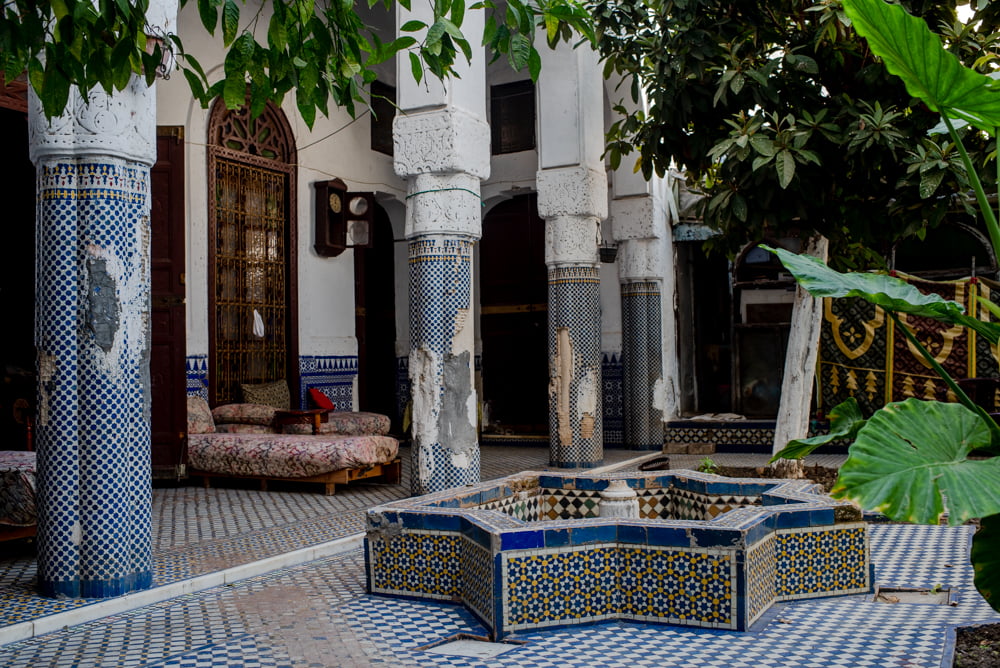 The whole journey from Tangier to Fez was one of adoration of the chief, and further taught me the immense prestige enjoyed by the Wazan family, and particularly by my husband; also his father, Sidi el Hadj Alarbi, who was even more highly regarded. I gained more real knowledge of the family on this journey than in the ten years I had resided in Tangier.

I found numerous shrines in many parts of the country we traversed. These consist of a simple stone circlet where people went to pray for God's assistance in sickness or trouble. Some of these circlets stood where my late father-in-law's litter had rested, or where he had encamped for the night on his various journeys to the Court of Muley Abdurhaman, great-grandfather to the present Sultan…….. Many are the fantastic legends with regard to his mystical power, accepted down to this day as a reality……… My husband used his influence in the same direction after his father's demise, but gradually deserted the Court when he perceived it was probable that some day he might find himself constituted a State prisoner on account of his European leanings……..

Nevertheless he considered his spiritual position a higher one than any actual temporal one ; then, too, he was influenced by the old saying: "From us it cannot be, but without us it cannot be." The ceremony of crowning a Moorish Sultan is represented by the mounting of the elected Sultan, generally at Muley Dris of Zarhoun, on which occasion, in presence of notabilities, the Grand Shareef of Wazan (or a deputy of the same family) holds the stirrup for the Sultan to mount. Also on the proclamation of a new Sultan, when the Beiha, or Act of Proclamation, is signed to that effect at the town governor's, if a Shareef of Wazan is resident in that town he is invited to sign first, followed by the Kadi, the Basha, and so on.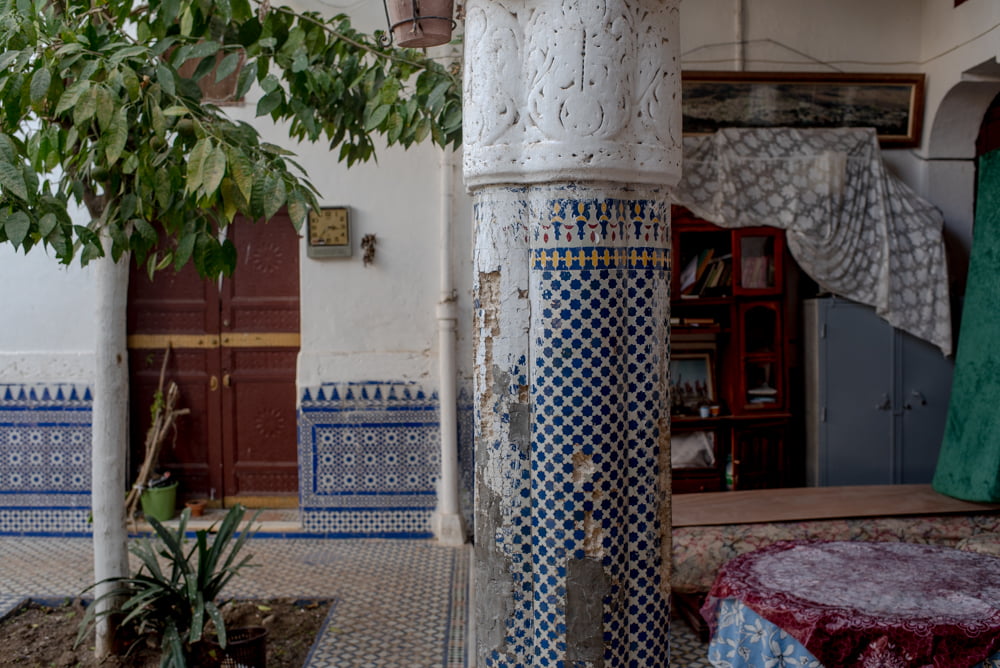 Here too I had an insight into the great veneration in which my husband was held by his co-religionists out of his own country. The people worked themselves up into a perfect frenzy of delight at his arrival among them, and the hotel proprietor was put quite beside himself by the overwhelming crowds that invaded his premises. As a last resource the doors were locked. The police drove away the crowds only to find them entering by another route. At length the excitement subsided, when it was announced that the Shareef would receive the faithful in batches, and that one and all should have the benefit of his personal benedictions.

Until now I had not fully realised what his exact position was in the Mohammedan world. I knew he was of noble birth, a lineal descendant of the Prophets, but that did not appeal to me in any extraordinary sense. Now it came home to me with a rush, and I found myself wedded to a man with an influence I never dreamed he possessed. I had then been married two years, and was only just beginning to express myself in a few Arabic words. Before then I had never met any Moors from whom I might gather any knowledge of their manners and customs or, the most necessary of all, of their language.  Spanish was spoken all round me, and in three months I acquired sufficient knowledge to converse with the people, so it is not to be wondered at how completely I was taken by surprise at all these demonstrations out of Morocco.

The scenes I witnessed were extraordinary : strong men with tears rolling down their cheeks came for the Shareefs blessing. Some carried mysterious little bundles, at the contents of which I made wondering guesses; some of these contained a little flour, others wheat. This person would have a handkerchief, that some garment, and what for? To be touched by the Shareef, and thereby convey a blessing to the owner, who perhaps was prevented from coming personally. The flour might be to mix in the soup of a sick person, the wheat to be mixed with seed so that a good crop might be expected at the next sowing.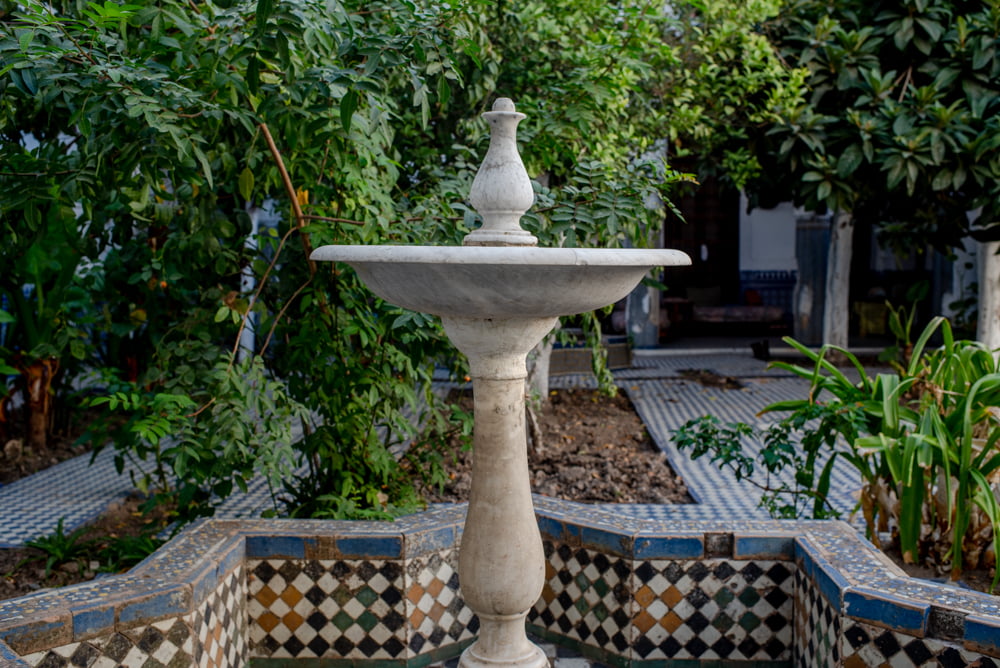 Companies of different sects came to do homage, such as Aissowas, Hamatchas, Derhowis, and many others. All these sects have their spiritual chief; at the same time they recognise the Grand Shareef of Wazan as the head of all in fact a Pope would be the nearest designation of the post my husband held.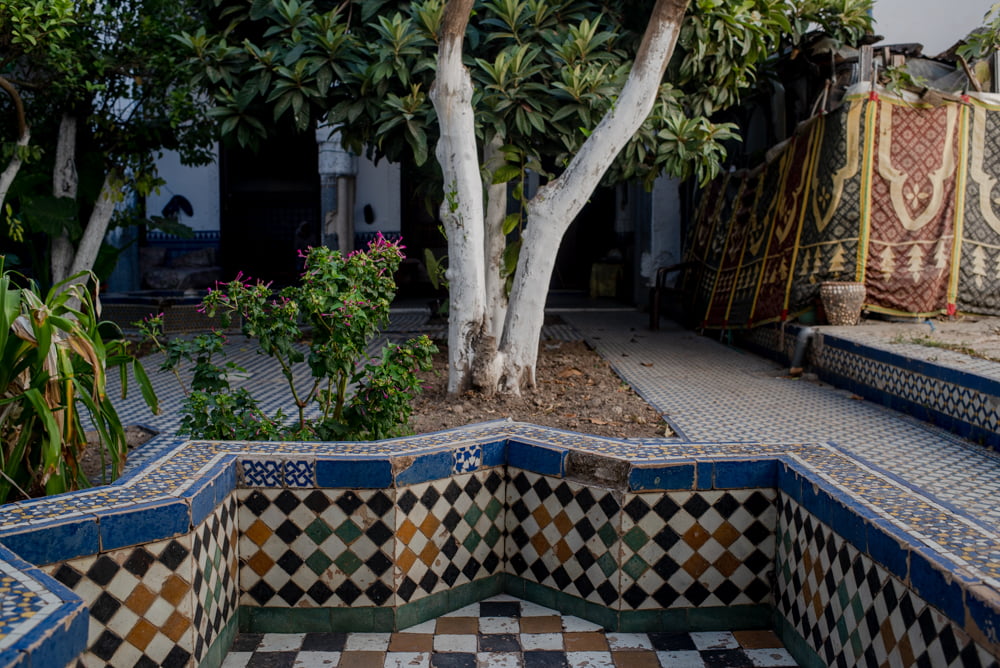 The founder of Wazan, Muley Abdullah, was born within the last ten years of the sixteenth century, at Tazrout, in the Beni Arouss tribe, where his father, Muley Brahim, a direct descendant of Muley Drees, first Sultan of Fez, lived and was buried, his tomb being still visited by pilgrims.

He naturally is allied to Muley Abdeslam ben Machish, who flourished in the thirteenth century, renowned for his great learning and piety. Muley Abdeslam ben Machish's tomb is very much venerated to this day ; in fact the place is almost a second Mecca, for thousands of pilgrims from all parts of Morocco and Algeria visit it in the course of the year. The saint was the propagator of the mystical doctrines in North Africa, particularly in Morocco.

The tomb of Muley Abdeslam is built on the mountain of that name, sometimes called Djebel el Alam (from this comes the name Alami given to all descendants), in the province of Beni Arouss, and no Christian is permitted within the precincts of the holy territory, though many attempts have been made. Muley Abdeslam is supposed to have had a daughter ; other accounts say he had no children, and that this girl was his niece and adopted by him ; anyhow she was called his child, and there is nothing to prove the contrary. Muley Abdeslam was anxious to bring about an alliance by marrying his daughter, or niece, to Muley Mohammed, Muley Yimlah's son, his nephew.

The young girl was very proud and ambitious, and refused to marry her cousin unless her father, or uncle, assured her certain advantages, which were that the ancestral baraka, or sanctity, should pass to her husband, self, and children, and also that the family should take precedence of all the families of Shorfa. Her father, or uncle, promised this, and the marriage took place after the bride had had a visionary visit from the Prophet Mohammed himself, who confirmed the paternal promise, and added that her house should be designated for ever Dar-el-Demana (house of surety), a title the direct descendants bear to this day. It is held in the highest veneration throughout Morocco, Algeria, Tunis, Tripoli, and even in Egypt, Turkey, and India.

Muley Abdullah, who was descended from this illustrious family, lost his mother at a tender age, and was brought up by an aunt, a very pious woman, who adopted him as her own son, and had him highly educated, not an unusual thing in those days. When near to manhood, he thought to improve himself by going beyond the mountains of his birthplace, where he had been educated. He became fascinated with the teachings of a great religious Sheik named Sidi Ali ben Ahmed of Djebel Sarsar, near Al K'sar el Kebir, a man much venerated for his learning and extreme piety. He was diffident about meeting this great man, and in order to be near him he offered himself as a gardener. He worked for several years in this capacity, not neglecting his studies.

One day the Sheik came with some friends to the garden and requested Muley Abdullah to fetch some pomegranates. The gardener complied by bringing several, which on being opened turned out to be of the sour kind. Thereupon Sidi AH called his gardener and asked him what he meant by giving him and his friends sour pomegranates instead of sweet ones. Muley Abdullah replied, " Although I have been all these years in this garden I have never tasted the fruit, and by Allah I cannot tell which tree bears sweet (sefri) and which sour (hamed). Sidi Ali was very much impressed by the young man's honesty, and being told of his Shareefian descent conferred upon him his baraka (blessing), and dismissed him.

Thereupon Sidi Abderrahman el Mejdoub, a renowned saint and versifier, wrote some couplets, which may be translated as follows :

Oh Mistaken One, riding on a piece of rotten wood, You have given it (the baraka) to other men's sons and left yours without.

On hearing this Sidi Ali's sons went to their father and remonstrated with him for giving away their spiritual inheritance. He answered, "Go follow Abdullah; if he has not already crossed the river bring him back ; if he has crossed there is no remedy, and he has the baraka." The sons hurried away only to find that Muley Abdullah had already crossed. He visited Tetuan and Fez to complete his studies.

On his return from these cities he became a hermit, and took up his residence in a retired spot near the village of Mikal, on the east side of Djebel Bouhelal. The inhabitants were not over-impressed with his studious and religious life, and did not refrain from offering petty annoyances as occasion presented. All this was borne with an exemplary patience and fortitude, until one day they killed Muley Abdullah's cow, at which he was furious and loaded the people with maledictions. At the same time the cow was miraculously resuscitated, upon which the villagers begged him to remain, apologising for their misbehaviour in the most penitent form ; but Muley Abdullah had made his plans and left on the villagers a curse, to the effect that their milk should never cream. To this day no Mikalli can make butter, as no cream is to be gathered from the milk of Mikal.

Muley Abdullah departed for the other side of the mountain of Bou Hellal in the Masmouda district, and took to wife one of the daughters of that tribe. The maledictions on the people of Mikal made such an effect upon the surrounding people that villages soon sprung up on all sides of his hermitage, for he was now regarded as a holy man, and his followers increased daily at Wad Zain, or Beautiful River, to-day the holy city of Wazan.

I did not learn anything remarkable about Muley Abdullah Eshareefs son and successor, Muley Mohammed, but his two grandsons, Muley Touhami and Muley Taieb, both strengthened the foundation of the House of Wazan, and propagated religious views in many parts, as they visited Tunis, Algeria, and the Tuats' country. The followers of either brother are styled Touhama and Taiebien respectively, according to the teachings of the sect they follow. Muley Touhami latterly became a Taiebi, the extreme piety of Muley Taib attracting the brother to what he considered superior tenets to his own. The sects are one and the same. He appointed Muley Taib his spiritual successor in the following words: " Govern me and govern by me, and, if in a dilemma, call upon me."

Muley Touhami had eighteen sons, and his descendants are to be found all over Morocco, Algeria, Tunis, Tripoli, Egypt, and even at Constantinople. The Taiebiens are not so prolific, and only a small family exists in comparison to the Touhamien, between whom and the Taiebiens there is the strongest bond of brotherhood. The Taiebien influence is paramount to this day : no government has been strong enough to shake its foundation. Other sects have been dispersed, new ones have sprung up, and hopes entertained that Wazan may be crushed ; nevertheless, success has not crowned the efforts made.

My two sons are Taiebiens, and their descent is as follows : Muley Ali and Muley Ahmed, sons of Sidi el Hadj Abdeslam, their father ben Alarbi, ben Ali ben Ahmed, ben Taieb ben Mohammed, ben Abdullah Eshareef el Alaami el Hassani el Wazani, and from there to the Prophet Mohammed.
BURIAL takes place in Morocco a few hours after death, so what remained of dear Lalla Heba was being pre- pared for the last rites, and the wailing ceased for a time. If the house has a basement, the body is gene- rally carried to a lower apartment, if the deceased should have died upstairs. A professional is hired to prepare the body for burial. Preparation consists in its being washed three times from head to foot with warm water and soap. The water must be brought from outside, as no fire is lighted in a house for three days after a death has taken place therein. Orange and rose water are freely used, attar of roses and incense, and other scents of native production. The water from Zem Zem, the holy well of Mecca, is sprinkled over all. The nostrils and ears are plugged with camphor wrapped in cotton wool, and the same is placed under the arm-pits. About twelve yards of calico would be required to make a shroud, which is fashioned into garments just basted together. These consist of a shirt, drawers, two handkerchiefs for the head, on which also a turban is folded. The body, once dressed, is then rolled in a long piece of calico, and knotted at head and foot. Tolba 1 sit round after the body is placed on the bier, but not if the ceremony takes place in the mosque, and recite portions of the Koran ; lighted candles are also placed near.

The bier is now brought in, and the coffin placed upon it, and covered with a haik. If a coffin is not used, the body is enveloped in the haik, which is re- moved at the grave-side. The two big toes are tied together immediately after death, and if the approach of death is apparent in a sick person, the sufferer is always turned face to the East. In case of sudden death this is the first office performed. During ablutions the body is kept in that direction. I did not return to the house, for I had not sufficient pluck to encounter the writhing mass of humanity a second time, and I knew that when the coffin was re- moved from there a repetition of the early-morning scenes would take place.

Every male in Wazan attended the funeral, robed in white ; walls were covered with women also in white; even the trees swarmed with boys and girls, watching what proved to be a magnificent procession. I had been advised of the hour of departure, but the time was long past when the cortege came in sight of Muley Mohammed's garden. The first intimation was like hearing the surging of the sea in the far distance. Very slowly it became more distinct, then all at once a patch of white appeared among the trees on the side of Bou Hellal. I distin- guished men, and then the cortege was in view, and the chanting from some two thousand throats became quite audible. The Arab women's dirge was inter- mingled with the men's sonorous voices, a heart-rending shriek now and again arose from somewhere, and all the time the sun shone at its brightest, the trees were in their gayest dress, washed bright with the recent heavy rains, the ground seemed like a new green carpet put down for the occasion the whole spectacle was one which my poor pen could not describe.

On they came, the tolba in their spotless garments, marching in a semblance of order, winding in and out as they changed to a lower level of Bou Hellal. Would the procession never end, I thought, and where was the bier? At last it came in sight, borne on the shoulders of men of Tuat, who are styled "the Slaves of the House of Surety " (Dar-Demana). The rough coffin in which the body had been placed was invisible. The bier is an elongated cage, which is covered much in the same manner as the bridal litter. In this case there were flags worked in gold and silver thread on brocaded silks of many hues, and the flag from Muley Abdullah Eshareef was predominant.

The death-chant is really beautiful ; harmonious, true, impressive music. Imagine some thousand male voices chanting in unison while with measured steps broken by short halts now and again when the bier- carriers changed hands the company swept on. Now and again part of the procession would reappear for a moment on account of the undulating nature of the ground traversed, and the zigzag paths taken to avoid places sodden by the recent heavy rains. Not a leaf moved and no one spoke, or if they did it was in the lightest under- tone. Soon all were out of sight, and the procession reached the mausoleum Mosque of Muley Abdullah Eshareef having taken nearly two hours to accomplish the distance of rather over a mile.

A few prayers from the Koran were recited as the body was laid in the already prepared grave. Bread, figs, and money were freely distributed to the poor, and one and all returned to his house, leaving the grave-digger to cover up all that was mortal of the young bride whose wedded life had lasted scarcely sixteen months. I saw her grave at a distance. It is near the door-step of the principal entrance of Muley Abdullah Eshareef. People who go there, seldom, if ever, neglect to recite a prayer. Daily pilgrimages are made to the new grave, and tolba recite at different intervals. For three days relations, friends, and acquaintances supply the meals at the house of mourning. On the third day dishes of couscous and bread and figs are distributed to the tolba and others, sitting round the last resting-place. This ceremony is repeated by most families on the fortieth day.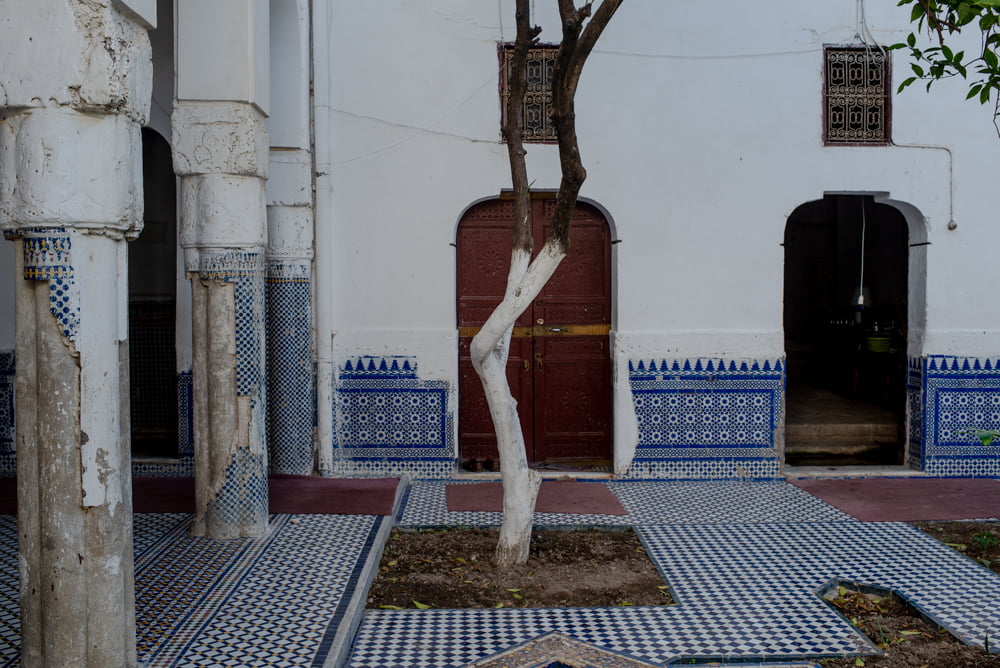 A woman on becoming a widow is at once rolled up in a haik (a kind of blanket, used as an outdoor garment, or for bed-covering) until new white garments, generally calico, are procured. She must wear no coloured garment for a period of four months eleven and a half days. Her laundry must also be done on Saturdays only, unmixed with that of her household. The hammam, or steam-bath, in solitude is also another restriction for the newly made widow, and if she bathes at a public bath, she must return home before the Assar, or afternoon prayer. In Wazan, she may not go out of her room after that time. Permission is accorded to visit friends after four months, but on no account may she attend festivities. She must be very careful not to go about barefooted. The clothes worn at death are usually given to the poor, and little heed is paid to the question if death has taken place through contagious disease or not.

In the case of virgins, or women who have passed away in childbirth, or infants, the " zahrits," or joy-cry, accompanies the body to the door of the house. If the deceased is well-to-do, or possesses slaves, it is customary to free one or two of them. These follow the bier, holding their certificates of freedom aloft at the end of a long cane, and a slave is often purchased for the purpose by the heirs, if circumstances permit one to be purchased. Many a one who has taken refuge in this Zowia owes her freedom to such circumstances. I have also assisted some to free themselves. I am not convinced that it is a real kindness to free these poor creatures. They have no family, practically no friends, and are turned upon the world to pick up a precarious living.

Slaves, on the whole, are extremely well treated, but, of course, one comes across exceptions. Their general intelligence is generally below the average, and they are far from resourceful. As a rule, they are fairly good cooks, once having mastered the art, and also good laundresses. I have in bygone days even taught some to iron a shirt, scrub a floor, and clean a grate.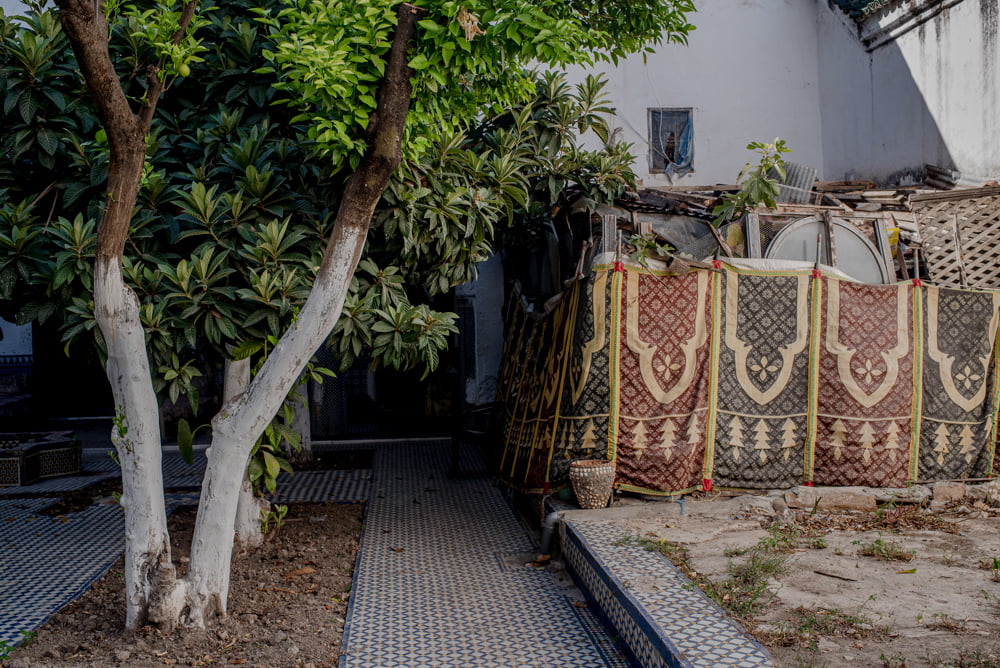 With regard to Sidi el Hadj Abdeslam, my husband, many are the miraculous powers ascribed to him. He was left a large fortune by his father, and inherited two others, and was at one time one of the wealthiest men in Morocco. But his motto was, " Let the morrow take care of itself." He rather boasted of the immense amount of money that he was able to disperse in all directions. He certainly did not believe that charity and discretion in giving the same should go hand in hand. People knew he was open-handed ; he never took the trouble to inquire if a case was deserving or not. Many a time he has sent to me to send him, what I thought was to be a cast-off jelab (the outdoor overcoat), when probably he had left the house with a new one, and come home without it.

Some poor Shareef or other would request to be clothed, and my husband's wardrobe sometimes diminished in a most remarkable manner. Any favour done him by Christian or Jew was always recompensed most fully. Musicians of any nationality always went away more than gratified. When I went to England to obtain my parent's consent to my marriage, every letter he had written to me cost from twenty to forty francs. But for the precautions I took, little property would have been inherited in and round Tangier. The Shareefs of Wazan are large landed proprietors, consequently agriculture is much favoured by them, and exportation of grain being prohibited, many tracts lie fallow year in and year out for want of a better market to dispose of the produce.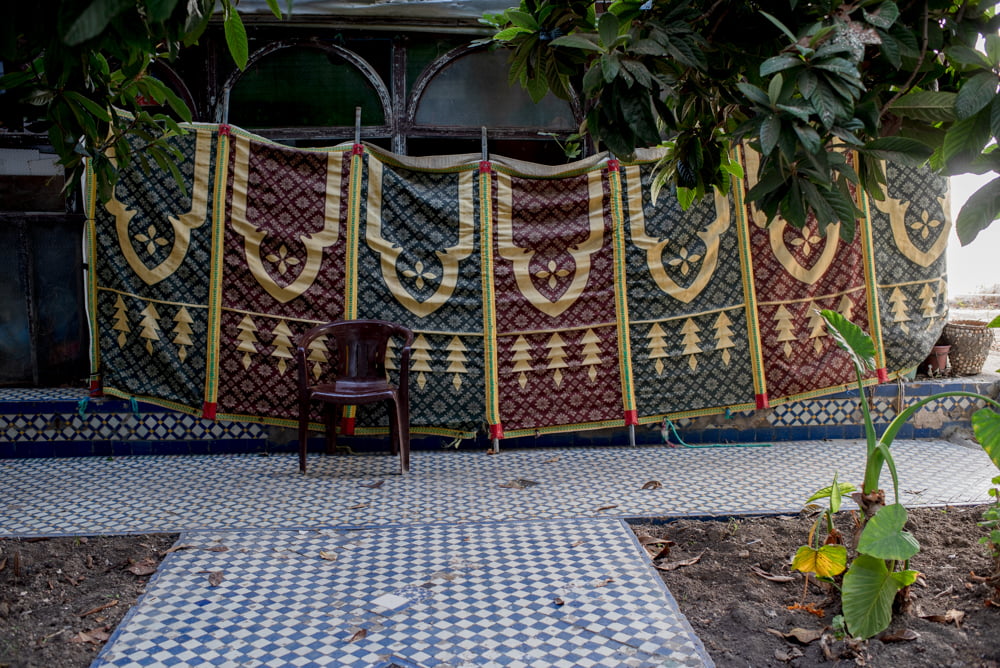 Superstitions are rife throughout the land, and I have observed many curious customs. The power of the evil eye Ain el Kisbech seems to be more firmly believed in by male and female than anything else. Financial loss, sickness, household troubles, &c., are attributed to this cause. The number five is generally mentioned as four and one, especially if five persons happen to be present. A candle must never be blown out, as a guardian angel might be puffed in the face. Charms or writings of pious sentences are in great request, and many tribes really gain a livelihood in this profession. Earth from saints' tombs is placed in the hollow of a piece of cane, and hung round the neck, to represent the request that was made on the last visit to the tomb.

Fortune-telling is not much credited, though freely practised, wheat or flour being placed on a sieve, and turned over, or round as our old nurses did with the residue in the tea- cup. Palmistry I have tried, but I am convinced that the reading of the lines is now lost to those who practise it. It is now only a form of begging, for the practitioner seeks only to have his or her palm crossed with silver.

There is also a certain kind of magic, named the M'hallah  (army or camp). People wishing to know of absent friends will employ a scribe capable of calling up the M'hallah. This performance takes place generally on a huge terrace of a house. A boy of about ten years old is required for the purpose. The scribe draws on his palm a camp, which is represented by a square. This is subdivided, leaving the centre larger than the rest, into which a large blotch of ink is placed. Then some numbers are placed in the smaller spaces, outside of which has been written a verse from the Koran. All the time these preparations are going on, incense is freely burnt on live charcoal. The first question asked is if the boy can perceive his own face in the large blotch. If he replies in the affirmative, the scribe demands of the inquirer or inquirers what is wished to be known.

I am assured that the most efficacious mode of casting out devils  ( I call the malady nerves or hysteria ) is by following this recipe : Procure from three ladies as a gift three handfuls of flour; these ladies must be named respectively Fatma, Mahma, and Kadijah. They must never have been widows or divorced, and their husbands must conform to the same conditions. Next you must buy, or preferably have given you, an earthenware pot, quite new. Now procure a little oil, butter, walnut-bark, khol, mistra  (gum mastic), a little piece of sugar, a square of common muslin, four pieces of bamboo cane about two inches long, and four bits of cloth about an inch square, red, yellow, green and blue-black. Call or send for a professional charmer, and arrange with her the day she will come to cook the peace-offering to the malicious spirits.

The woman is supposed to fast and purify herself before commencing, and must find a fish added to the above requirements. The charmer must be dumb for the time being, that is from the time she leaves her own house until she had completed her task. The flour is mixed with water (no salt, no leaven) and sent to the oven. That done she takes the fish, cleans it and prepares it for cooking, being careful to preserve the entrails and scales, also the head, in the water she has used. The fish is placed over a fire in the new pot, with the oil, butter, and some water ; a friend or friends sit in the room with the invalid in whose presence this is taking place. The fish being done to a turn, is removed from the fire ; the charmer then visits the four corners of the room, and anoints them with the sauce from the pot.

After this a mouthful is given to the sick person. Furthermore, each of the large joints of the invalid are anointed with the sauce. The pot is then put into a hand- basket, the sugar, miska, khol, head and entrails and scales of fish, and water it was washed in, put in the pot with the rest, and four little flags that in the mean- time have been made, decorate this mess, which is finally covered with the cloth. The charmer departs as she came, and goes to the seashore, where she deposits her burden in some corner, taking her basket  home. Once within her domicile her obligations end, until she is summoned by some one else to perform the same kind offices. The blue and yellow flags repre- sent two of seven sisters, named Lalla Okea and Lalla Myra, guardian female spirits ; the red and blue-black, Sidi Hamon and Sidi Memoun el Bakr (of the sea), propitiating spirits.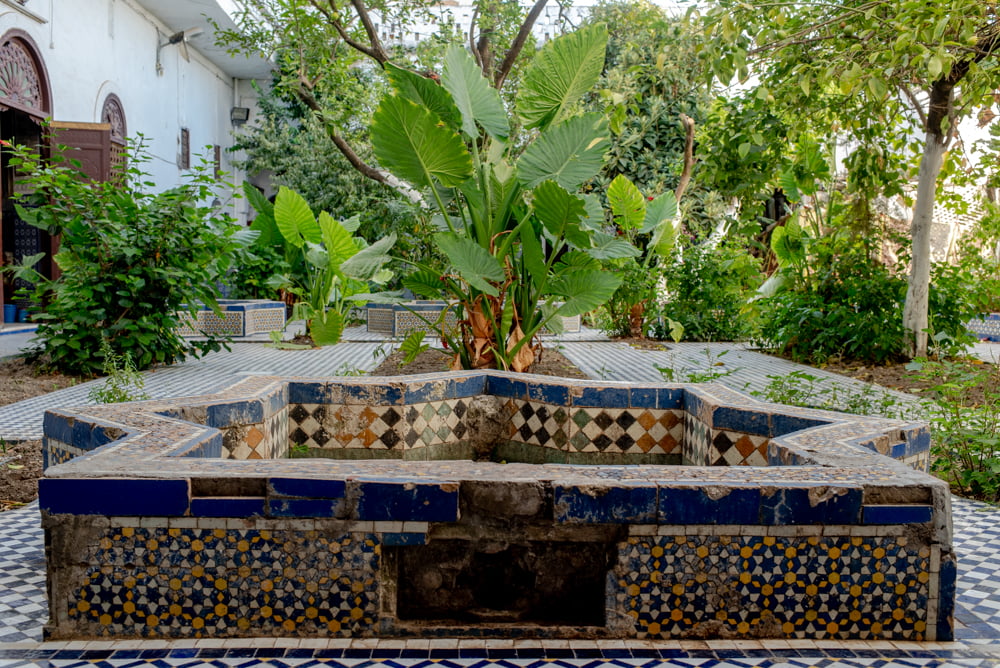 As for the Shareef, his monomania increased with the continued annoyances from Government, and drove him to all sorts of excesses. It was sad to see this clever, upright man, a good husband and a devoted father, with an intelligence far beyond that of most of his co-religionists, taking a downward course and surrendering to influences which no reasoning or persuasion could counteract. Save in his love for Muley Ali and Muley Ahmed, which never changed, he became another person altogether. Towards me he was always most polite, and resented any slight said or imputed by others.

One day a cousin of his (one of the seven) remarked upon my remaining in the country. " God forbid that she should do otherwise, and grant her long life with our sons," he cried ; so I resigned myself to the new position created, for the children's sake. Scarcely had I made this resolve, when I was sent for  (we were now supposed to be separated a I'aimable)  on a matter of great importance, so getting my horse I rode to the mountain. He came to assist me to dismount, and we went into the summer-house. Several people were there who greeted me warmly. The conversation was general, and I began to wonder what was the cause of my required attendance. People gradually left, and then the Shareef told me that he intended leaving Morocco, and wished to live with me in Oran ; consequently I was to sell all the furniture at my house, precede him to Oran when the boys returned to college, take a house and furnish it. Meantime he would go to Wazan and arrange his affairs with his sons there, and join me later in Algeria.

I begged a few days for consideration, although he required me to consent then and there. Daily he sent to know my decision. The children were adverse to the change, the more so when their father sent to say the house was also to be sold. The sale of furniture took place, and to Oran I went, and saw several houses, previously taking the boys for a tour to Tlemcen, Bel Abbes, and Blidah before they re-entered the Lyce'e.

Returning to Oran, a cousin residing at Oran brought me a copy of the Echo d'Oran, which stated that the Grand Shareef de Wazan had been assassinated by the Beni Mesara during a hunting trip near Wazan. A vessel leaving that evening for Tangier took me as passenger. At the ports of call, I could get no confirmation of the telegram ; at Gibraltar I was convinced the news was false. I should have telegraphed first, but then, steamers only plied fortnightly between Oran and Tangier, and had the news been true, it would have been prejudicial to my sons to delay. The Shareef came a few days after my arrival, at which he expressed surprise. I told him my reason, and at the same time suggested we should return together.

He excused himself on the ground that his affairs were not quite in order, and that he preferred I should be quite installed to receive him. Finding I could do nothing, I returned, but he did not come until December. I had given up all hopes of his joining me, when one night about 1 A.M. I heard a carriage at the door, and then a tremendous knocking. Neither of my servants would go to the door, so putting up the chain I inquired who was my visitor.

The voice that replied was familiar to me, being one of the principal guides in Oran. He said that the Commander of the vessel had sent for me, as the Shareef was dangerously ill on board. Though it was a risky thing to do, I immediately made the Moorish woman I had in attendance, dress to go with me, she protesting all the time that some trick was being played.

I put on some meat for beef tea, and off I went for a twenty minutes' drive to the Port of Oran in the dead of night. I found the Shareef shut up in his state-room. He assured me Mahmoud wished to poison him, and was in league with some one on board. He had had no food for two days. Knowing his malady, I did all I could to soothe him while I dressed him, and with assistance put him into the carriage.

For several days he was ill, and would not have a doctor. At last I insisted ; a slight opera- tion was necessary, and he recovered, when to my great surprise he said he must visit Hammam Bougrarah, and that I was to remain in Oran the fortnight he would be away. I was much struck with the excess of cordiality in the railway carriage as he was leaving. He seemed as though he could not part with me. Again and again he took me in his arms ; fortunately there was no other passenger at the time. On starting, he hung from the window until a curve took the train out of sight.

He wrote to me from Tlemcen, and sent a messenger from Bel Abbes. I could not imagine why he went there. Then the money he promised me never came, and there was no more news, except from out- siders, that he was at Hammam Bougrarah. No reply to telegrams, but at last one came : " Shareef suddenly decided to return to Tangier ; embarked at Nemours ; do not follow."  I did not know what to do.

Extra expenses incurred by his illness were unpaid, and I did not feel inclined to draw upon my slender purse for his debts. A fortnight passed, when a telegram to the Oran authorities announced I was divorced,  a statement I could not credit, because there was no reason for the same, and I knew the Shareef could not pay 40,000 dollars for a mere freak. The Algerian Government officials were more sympathetic, and by order of Monsieur Firman, Governor General, the sum of 1000 francs was placed at my disposal. After waiting a fortnight to see if any letters would explain, I returned to Tangier to find out if it was really true.

The Shareef, I learned, had contracted a marriage with one of his servants. In a normal state he would never have done so, but I found that ever since his return from Algeria he had been in such a condition that he was practically irresponsible.
Three weeks before my husband's death I was startled out of my sleep, very early in the morning, by hearing his carriage driven up to my door. It was the only one in Tangier then.

He was carried into the drawing-room, while my bedstead was quickly brought down to the dining-room for his convenience. He was rather delirious, and begged me not to let him be poisoned, to lock up everything, even the water, and prepare his food myself. Then he fell into a comatose state, and nothing could rouse him.

I sent for a doctor, who said he could not account for his state ; the only thing to be done was to administer beef essence, and this he would swallow from a teaspoon when I put it into his mouth. Towards afternoon he again revived, but would not hear of seeing a medical man, and I naturally did not tell him one had been summoned. To- wards evening he insisted upon being propped up ; then he tried to play draughts with Muley Ali and Mannie, and would not part with them until the children could not keep awake any longer. After extracting a promise from them to get up early and go to the mountain to shoot him a wood-pigeon, he let them go. Several people called, but only those who were not of his entourage would he see.

He remained awake all night ; towards morning he dozed, and I went to take my bath. I had scarcely commenced to dress when I heard a tremendous scuffling downstairs, and found my house invaded by servants and retainers from the Zowia. Poor things, I thought, they are anxious about their lord and master ; little did I guess the real cause of this army of women. I heard the Shareef talking, and hastened to take him the coffee I had prepared for him. Then what did I see : a woman dressing the Shareef as quickly as she could, while others held him up on the bed. I asked the meaning of this, and the reply was, " Sidi's orders."

He refused the coffee, and I remonstrated with the women on their procedure, but all to no purpose. Presently the carriage came, his men hoisted him in their arms, and he was driven at a furious rate the short distance to the town. When the boys came back and found their father fled, it was piteous to see the children's distress. They went to their father's residence, only to be refused admittance. 

During the next three weeks the Shareef s brain seemed to have completely given way. I sent for Muley Mohammed, and had Muley Alarbi, who was in Algeria, summoned. The Shareef lay in practically a comatose state, with an occasional lucid interval. We could not get rid of the apothecary, who was in constant attendance, but three days before his death I asked for medical assistance from the French Legation in the name of the sons. The physician declared the malady to be one of the most peculiar he had ever diagnosed. 

I often wonder if a certain herb found in the Biff, which is said to have the power of slowly destroying the vitals of the person to whom it has been given, had been administered secretly to the Shareef. This is done very much, I am told, for revenge, and the process takes years, or months only, according to the amount taken. It was suggested by the Moors themselves that perhaps at some time something of the sort had been done, and my suspicions were strengthened when the several doctors were perplexed as to the real cause of the Shareef's malady. Tartshah is the Riifian appellation of this herb. It is to be found in certain districts of Riff, principally on a high mountain named Djebel el Hammam. It can duly be culled at a certain season, and must show a phosphorescence. I was told by an eye-witness that a certain woman's mother became possessed of this particular herb at the tomb of a saint (Sidi ben Smondi), and that she received from the Riffian who bought it the sum of 50 dollars. I know this, but cannot prove it. My informant died before the Shareef. El Wourka is the local appellation of the above poisonous herb. El Djebel el Hammam means " Pigeon Mountain." 

The whole time I was in constant attendance, going to my house at intervals for a little rest, and to look after my boys' comforts. The Shareef told Muley Alarbi that I was to be guardian to my sons and their interests, and that he expected he and Muley Mohammed would be just towards them. Another time he warned me never to allow the children to go anywhere without me, and another time told Muley Ali and Mannie that in following my advice they would never go wrong.

The night before he died, he seemed to enjoy a lucid interval for quite a long time, and after the doctor's visit fell into a deep sleep, so I was advised to go home and get a rest. At 1 A.M. -on September 28th, I heard the carriage and a furious knocking. Being half dressed in case of emergencies, I took my sleepy children and hastened to the Zowia. It appears that the Shareef continually asked for me, and then he would say that his mother was beckoning to him. His request was at first treated as the outcome of renewed delirium, but at last Muley Mohammed insisted upon my being summoned.

I found the Shareef placed on a mattress on the floor, facing east ; his sons, their secretaries, and one or two others were ranged around him. I was given a place immediately by his side. Muley Alarbi said it was useless to speak to him, but Muley Mohammed and his secretary urged me to see if he was still conscious. I called him by his pet name of years ago, " Macduff, Macduff, I have come."  His hand seemed to seek something. I placed mine in his, which closed with a convulsive clasp, and he opened his eyes, and murmured " Jitzi el aini " ("Have you come, darling?"). These were the last words he spoke ; the end came, and Muley Mohammed's secretary released my hand from the dead man's clasp.
Immediately the death chamber was closed, and the keys of that and other apartments handed over to me. Downstairs, arrangements were carried out at once for washing and laying out the body, and orders were sent to various carpenters to make the coffin, washing-board, and bier. All was ready in a remarkably short time, and the body was carried down by the sons and a few friends. I was invited to see him when all was finished, but I preferred to remember him as he had been. The death-dirge and shrieking in the house completely unnerved me, and there was no possibility of my escaping the sounds. Muley Mohammed went several times to order the retainers to make less noise, but they seemed to redouble their laments after each remonstrance. I saw some of these mourners afterwards. Hideous they were to behold with their faces terribly scratched, chests and clothes torn, and heads dishevelled.

Although invitations to the funeral were for 1 P.M., Muley Alarbi insisted on the ceremony taking place at 10 A.M., causing it to be remarked that he was afraid his father might come to life again. Certainly I heard some chanting, but little did I know the body was being removed to its last resting-place. The sound of the death-dirge made me think, at first, that another funeral was passing. I rushed to the window, and at that moment saw the bier, covered with flags, on the shoulders of the servants.

Whatever the real cause of this unseemly haste, I could not conjecture, and the only conclusion I came to was that he might have objected to the Legations being represented by their respective Moslem soldiers. It was a mystery I never fathomed. The crowd was so dense that I was told one could have walked from the Zowia to the middle of the town ( where Muley Taib's mosque, the place of interment, was situated ) on the people's heads, without fear of falling. The procession started amid great difficulties. The four sons were the chief mourners. The dirge echoed and re-echoed for some little time as the populace on all sides joined in. Men sobbed aloud, women became hysterical and tore their hair in the streets, men rushed to re-cover them with the haik ( outdoor woman's covering ) that had fallen off, people fainted and were with difficulty rescued from being trodden under foot.

At last the little sanctuary mosque was reached, and the coffin placed in the grave, dug in a chamber adjoining the mosque, and facing the chamber where the Shareef's mother was interred. Muley Alarbi was for embalming his father's body and taking it to Wazan. I told him how the late Shareef had made me to promise that his wishes as to his burial-place should be carried out, and my word had weight with the sons. That is the reason why the Grand Shareef's remains are not laid with his forefathers.

The empty bier was seized by the populace and broken up into splinters, these being carried away as mementoes of the great man. The washing-board was claimed, and shared the same fate.

I began to wonder what my lot would be, now I was a widow, but my mind was soon put at rest by the great respect shown me by my late husband's sons, and the public generally. For months to come, hundreds continued to visit the late Shareef's grave, depositing candles and oil for the lamps in the hands of the special guardian, called M'kaddum. They also laid myrtle and flowers on the grave, or left a handkerchief, belt, or some garment in  the chamber in order to obtain a benediction. After a time, the owners would return and take away the garment, and keep it as sacred, perhaps with the instruction of having it buried with them when their time came. No Jew or Christian is permitted to enter the sacred portals, but no objection has ever been raised to my visits. On such occasions I conform to the customs, save in regard to changing my dress. 1 I take incense and flowers when in season, and a huge wax candle, which are all handed to the M'kaddum, who in my presence burns the incense and lights the candle. The burial-place is railed off. Two iron- wrought gates lead to the tomb on one side, and a large window with iron bars occupies the other. The walls of the chamber protect the two other sides. The floor is covered with rich carpets, there are two grand- father clocks, and suspended from the painted ceilings are ostrich eggs, and a rose and white coloured glass chandelier. The walls have mosaic tiles half-way up, and the flooring is of the same. Four little grandsons lie by his side. The grave is surmounted by a wooden structure six feet by three feet, handsomely painted by people in Fez. Its beauty is completely hidden by a pall of crimson and green velvet, embroidered thickly in gold, made by the women of Fez ; the top border is about eight inches in width, and verses from the Koran are embroidered thereon. At the foot the dado contains a dedication, also embroidered in letters of gold. Banners of variegated colours in silk are there, above the four rising posts of the structure,  which are covered with immense knobs of silver gold- plated. Many Europeans saw this pall in my drawing- room fixed on a wall, for it was entrusted to me by the donors at Fez, two years after my husband's death.

The entry of this pall into Tangier was a very solemn occasion. It was exhibited in the streets and accompanied by native music and powder-play. Eventually it was deposited in my house until the time the tomb was completed. At each native feast it was taken to the tomb and returned with much ceremony, remaining there seven days more or less. During the week this pall is covered by others less rich, in fact some quite mediocre, that have been presented by worshippers who have presented verbal petitions.

The roof of the tomb is spherical, whitewashed on the outside, and surmounted by three large golden balls. By an extraordinary coincidence, my bedroom window faced this edifice, which had then a flat roof, on the first night I passed in Tangier in 1872, when I lived for a fortnight at the Hotel de France, kept by the father of the present owner of the Villa de France Hotel in Tangier. It was then Muley Taib's mosque, where my husband sometimes worshipped, and where he visited his' mother's tomb on Fridays. At that time I never saw him, but destiny made me follow him, for my friends hired a property adjoining his in the mountain. His house was in a valley, while I was on a cliff. Walking up and down this terrace, I little dreamed I had an observer, later to be my husband, amongst the fruit-trees below. Three times in all did the Shareef propose formally ; twice I refused him, but I felt so irresistibly drawn towards the man. And I may say in all sincerity that I have never regretted the step I took, in spite of many sad times in latter years.
A text file of My Life Story, Emily the Shareefa of Wazan can be found here.
More information about Emily Keene can be found here,  the story of a family member searching for information about her in 2013.
A Google map of the location of Dâr Damânah in Tangiers can be found here.