On my Facebook page of photography related links with India, I have created a brief weekly portrayal of both classic and contemporary documentary photographers who have documented the culture and peoples of India in some way.
I have listed these articles below in a chronological order. The small introductions are taken from texts either found on the photographer's website or on-line accounts of their work.    Sannyassa can be found here .
Michael Ackerman          October 25th
Michael Ackerman, born in Tel Aviv in 1967, at the age of seven he moved to New York with his family. He has been a professional photographer since 1990. He began working in the streets, in nightclubs and in the dock area of New York. In 1993 he made his first visit to India shooting in Calcutta, New Delhi and Benares. In 1994 he returned to India to continue his work in Benares. In 1998 the photographs he took in India earned him the Infinity Award from the International Center of Photography in the young photographers category and in 1999 "End Time City", his atmospheric photographs of Benares, received the Nadar prize as the best photographic book of the year. In the following years he worked in Poland, in Marseilles, in Naples and in Havana. In 2001 he published his second book "Fiction". From 1997 to the present day he has had many exhibitions throughout the world, among which have been those in New York, Berlin, Milan, Rome, Madrid, Barcelona, Krakow and Paris.
His photographic process in his own words :
"I try to avoid the pitfalls of reality while maintaining a link with it. Photos are not inventions but encounters. I'm not looking for any aesthetic. That everything is haunted will not be completely intentional. But for me, photography is inseparable from the loss…..Some photos come out of nowhere, I don't remember having taken them, they are linked to the reality of what I felt. "
End Time City features a number of film camera formats including pinhole cameras. The images are atmospheric and grainy monochrome and capture the city in a very personal dream-like way. The book is now out of print and either very expensive or difficult to obtain. A link to the book's images is below
Margaret Bourke-White

          November 1st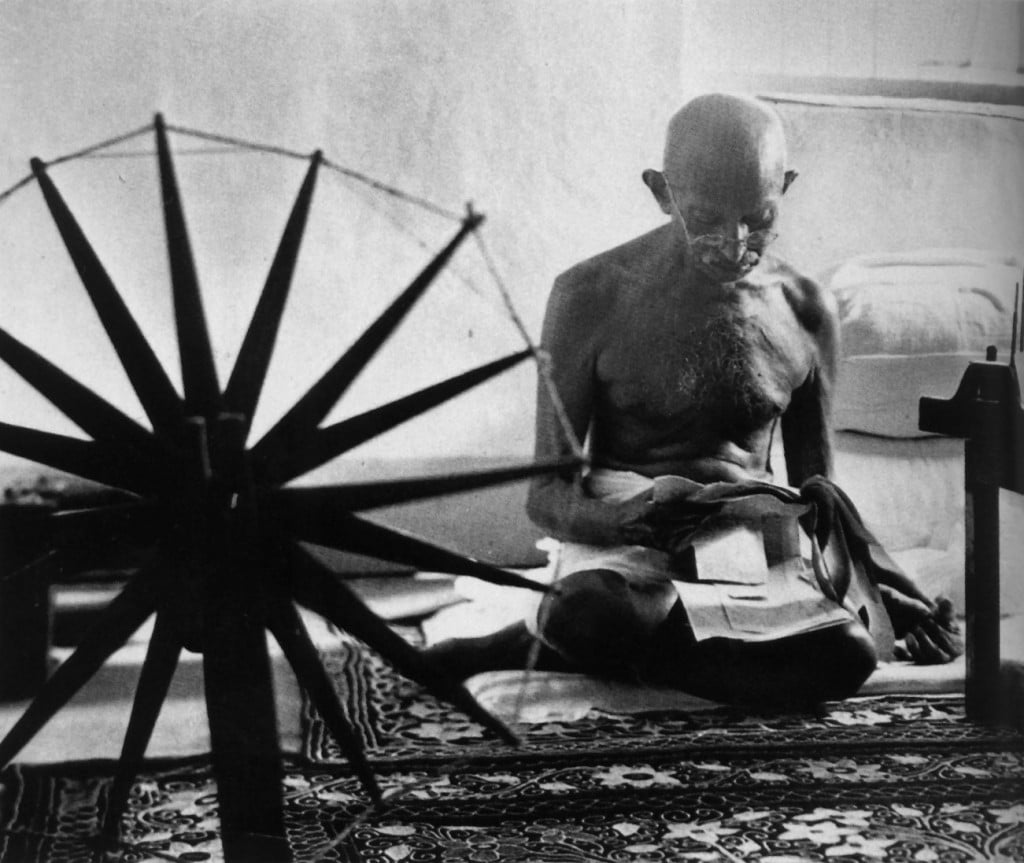 Margaret Bourke White, an iconic American photographer working for LIFE magazine took a series of photographs of Mohandas Karamchand Gandhi and of the trauma at the of the Partition of India. These images came to international prominence, especially her portrait of Ghandi at his spinning wheel which came to symbolise the independence of India from UK rule and economic dependency. She also became a friend of Ghandi and was reputedly the last journalist to interview him hours before his execution in January 1948. Here, some of Bourke-Whites most revealing, most intimate glimpses of the spiritual leader and revolutionary thinker known to generations of Hindus as the "Great Soul."
Raghubir Singh          15th November
Born in Jaipur, Raghubir Singh was a self-taught photographer who worked in India and lived in Paris, London and New York. In the early 1970s he was one of the first photographers to promote the use of color at a time when color photography was still a marginal art form.
In his early work Singh focused on the geographic and social anatomy of cities and regions of India. His work on Bombay in the early 1990s marks a turning point in his stylistic development; at the contact of the metropolis his visual language acquires a new complexity. In addition to his photographic work, Singh teaches in New York at the School of Visual Arts, Columbia University and Cooper Union. In 1998 the Art Institute of Chicago organized a retrospective exhibition of his work which was still on show at the time of his death. The critically regarded book River of Colour was published on the occasion of this exhibition.
In his last work A Way into India, published posthumously, the Ambassador car becomes a camera obscura. Singh uses its doors and windshield to frame and divide his photographs.
Sanjit Das          20th November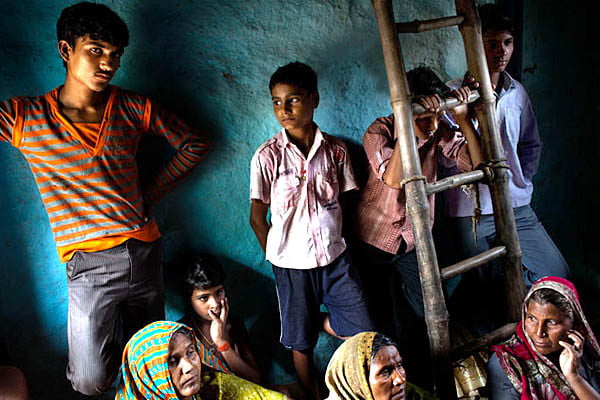 Sanjit Das uses his documentary style of photography and chronicles daily lives with a focus on the people who are living through the change in the economic and political landscape of developing countries.

Sanjit is a member of Panos Pictures and works throughout the world for editorial, development and corporate clients. His projects include 'The Other Modernity – Chhattisgarh', which he describes as 'It has become common to speak of 'two Indias' – of a growing, dynamic and Westernised middle class set against the hundreds of millions still mired in rural poverty ' and 'The language of Progress and Assertion of Self Dignity – Orissa' He describes this project as :

'In the era of liberalization and privatization, a sizeable number of mineral processing industries are coming to invest in the mineral rich state of Orissa. As a result, there is a large involuntary population displacement of the marginalized sections including tribals. There is a resistance leading to agitation by 'already' and 'potential' displaced persons resulting in state's brutal suppression, as in the case of TATA at Kalinganagar, Vedanta at Lanjigarh and POSCO at Jagatsinghpur'

Don McCullin          29th November

Don McCullin is mostly known and admired for his photographic coverage of wars all around the world. What is little known is that he is a frequent visitor to India, and has  produced a book of images called India. As can be imagined, the photographer pulls no visual punches as he documents an India perhaps now vanishing.  In lushly printed monochrome, his images portray festivals and city street scenes alike, and he spent time in Kolkata photographing Mother Theresa and the occupants of her shelter. Some of these images can be seen in the link below. India is still available new from booksellers at high prices; second hand copies hold their value well.  A reluctant digital photographer, Don's art remains firmly rooted in analogue photography and his photography now is mostly landscape,  still life and travel.  One of his latest  projects is Southern Frontiers: A Journey Across the Roman Empire,  a series of large format photographs of Roman ruins in north Africa.

His interest in India has been described as :  'After making his first trip down the Ganges in the company of travel-writer Eric Newby in the mid-sixties, McCullin has returned to the sub-continent again and again, sometimes on harrowing photojournalist assignments, but more often to capture what is to him 'the most visually exciting place in the world.' The results; ghostly, film-like accounts of India's everyday diversity, allow a sense of beauty and dignity to rise above squalor and degradation. Charged with McCullin's trademark ability to challenge and uplift the viewer, they reveal a style that has graced some of the more unfortunate corners of human existence, one that is at the same time surreal, but nonetheless human.'

Of interest to locals, Don lives in Somerset on the Levels.

http://historyofourworld.wordpress.com/2009/11/06/don-mccullin/?utm_content=buffer34bee&utm_medium=social&utm_source=facebook.com&utm_campaign

Zana Briski          6th December

Zana Briski became a photographer at the age of nine, the moment she entered her cousin's makeshift darkroom and saw the magical process of images appearing on blank paper. She graduated from the University of Cambridge and moved to New York City, where she attended the International Center of Photography.

Zana first traveled to India in 1995 to document the lives of women. Her work on female infanticide earned a NYFA Fellowship and a NPPA Picture of the Year Award. In 1997, she discovered Calcutta's red-light district and spent months at a time living in a brothel, photographing the women and later teaching their children photography. In 2001, she picked up a video camera for the first time.

Her resulting film, Born into Brothels, won the 2005 Academy Award for Best Documentary, an Emmy and 35 other awards. She received fellowships from the Open Society Institute, the Alicia Patterson Foundation and the Flying Elephants Foundation and the Lucie Humanitarian Award, a first prize from the World Press Photo Foundation, a Dorothea Lange-Paul Taylor Prize and the Howard Chapnick Grant for the Advancement of Photojournalism.

In 2002, Zana founded Kids with Cameras. She published a book of the children's photographs, Kids with Cameras, and self-published a collector's edition of her own photographs, Brothel.

http://www.zanabriski.com/bio.html

Born Into Brothels can be viewed here

http://vdownload.eu/watch/9825606-born-into-brothels-calcutta-39-s-red-light-kids-zana-briski-ross-kauffman.html

David Bailey          13th December

David Bailey, the great cockney fashion and style photographer, has visited India on a number of occasions. He produced a book following his last visits called Delhi Dilemma. " I called the new book this as I was in a dilemma trying to figure out how a 74-year-old man could photograph Delhi in three weeks as it would take a man 5,000 years to photograph all of the city. I never do research work and don't like consulting flowery brochures and maps. Ultimately, I just listened to people and let their stories guide me around the city. I liked everything about this city. The prostitutes stood out; they were a funny and cheerful lot. I also liked the sadhus, even though many consider them outdated"
Some ' teaser ' ? images from the book can be found here :

www.photoeye.com/bookstore/citation.cfm?catalog=DQ470&i=&i2=&utm_content=buffer5d7a8&utm_medium=social&utm_source=facebook.com&utm_campaign

Srinivas Kuruganti          20th December


 


Srinivas describes himself as a photographer of Indian origin. He was born in Washington D.C. in 1967 and spent his formative years in Delhi.  He moved back to the United States in 1986 to continue his further education.  He began his photography career in 1999 after moving to New York. He is now based in London but travels regularly to India where the majority of his projects are focused.

Srinivas' describes his photography in the following words  'My work has focused on the lives and relationships of people in communities that face both economic and social hardships in India. My photography documents the daily lives of manual laborers, from the ship-breaking yards of Bombay to the coal mining villages of Dhanbad. The Dhanbad series in particular highlights labor and living conditions when extreme industrial pollution from mining transforms the workers' ancestral lands from fertile fields to a barren landscape.

Since 2001, my work has expanded upon this theme by exploring the impact of disease- in this case the AIDS epidemic-on the living and working conditions of people in India. I began photographing patients and staff at Freedom Foundation HIV/AIDS clinics in Bangalore and Hyderabad, one of the few free private run facilities where HIV+ people can seek treatment. I have documented through photographs how the virus spreads through the inter-connected communities, including a series on high risk groups such as truck drivers, eunuchs and male sex workers. '

Raghu Rai          27th December

A collection of photographers of India would not be complete without reference to the Magnum Indian photographer Raghu Rai. Raghu Rai is a New Delhi based photographer born in 1942 in a small village called Jhang, which is now part of Pakistan. Rai started photographing in 1965 at the age of 23. In 1971, Henri Cartier Bresson was very impressed after he saw an exhibition of Rai's work at Gallery Delpire, in Paris. Rai joined the illustrious Magnum Agency in 1977 as a first Indian photographer.

Over the years, Rai has photographed his home country India documenting a changing canvas of the country along with important essays on Mother Teresa, His Holiness The Dalai Lama, and the late Indian Prime Minister, Indira Gandhi. His powerful work on the Bhopal gas tragedy won him huge accolades. His work reflects and in a sense, perhaps justifies the intense complexity of India. He has traveled through most of India documenting a new born country in flux. He has published over eighteen books and exhibited in India, USA, Europe, Australia, and the United Kingdom. His work is in the permanent collection at Bibliothèque Nationale, Paris, France. In 1972, Raghu Rai was awarded the prestigious 'Padmashree'—one the highest Indian civilian honors, first for a photographer ever, for his work on the Bangladeshi refugees of war.

There are several links provided below.

Firstly to an interview with him, the preamble to which I took the above words describing his career.

Secondly to his recently established Center for Photography which provides training at all levels for aspiring documentary photographers.

His Facebook page is here .

Finally his dedicated Magnum page is here.

William Gedney         3rd January 2015

William Gale Gedney (October 29, 1932 – June 23, 1989) was an American documentary and street photographer. It wasn't until after his death that his work gained momentum and his work is now widely recognized. He is most remembered for his series of rural Kentucky, and series on India, San Francisco and New York shot in 1960s and 1970s.

He received a Fulbright Fellowship to go to India and arrived in Delhi in November 1969 and soon traveled to Benares, where he lived and photographed in the old part of the city for fourteen months. In 1979 he saved enough money to return to India and lived and photographed in Calcutta for four months

His subjects included street scenes; ritual wrestlers; temple scenes and activities; bathing in the Ganges; festivals such as Holi; a Krishna festival; a monkey temple festival; Yantra and Shiva pujas; wall paintings; a wedding; actors, acrobats, and other entertainers; artisans, such as painters, sculptors, and photographers; merchants and markets; and religious men.

Despite receiving appreciation from noted photographers of the time, Walker Evans, Diane Arbus, Lee Friedlander, and John Szarkowski, he died largely unrecognised in New York aged 58 of HIV and according to Gedney's spoken wish, Lee and Maria Friedlander ( iconic American documentary photographers ) arranged for his eight cameras and over eight hundred photography books to be donated to the Chitrabani Art College in Calcutta, India, creating the William Gedney Photography Library.

What Was True: The Photographs and Notebooks of William Gedney – Amazon link to Gedneys only publication

Arindam Mukharjee          10th January 2015

Arindam is based in Kolkata and works freelance for the Times of India and other agencies. His documentaries include titles such as 'The Darkside of the Boom' ( a visual commentary on the dangerous labour intensive Indian coal industry ) and 'The Indian Grandchildren of Europe' which he introduces as 'Growing up in Kolkata I have had Anglo Indian friends. A glimpse of their beautiful yet different lives wasn't lost on a kid. Still for many years, it was beyond my grasp to even begin to understand this community before I started working on this personal project a couple of years ago. As I went along, stereotypes were busted ("Anglo Indians don't like to work". Wrong!), understandings were deepened (This is indeed a fun loving community. Perhaps, the only Indian…'

Sebastião Salgado          17th January  2015

Sebastião Salgado (born February 8, 1944) is a Brazilian social documentary photographer and photojournalist.

He has traveled in over 100 countries for his photographic projects. Most of these have appeared in numerous press publications and books. Touring exhibitions of this work have been presented throughout the world. His books ( Migrations, Workers, Africa, Genesis ) cover global polital/sociol/anthropological themes and are each vast projects which have taken yeas to complete. Photographs of India and Indian people have featured widely in his works. It has been difficult finding an on-line representation of just his Indian work as his projects refer to themes without specifically delineating global regions. A quick illustration of his Indian work though can be found below on a Pinterest search.

Steve McCurry          24th January 2015

Born in a suburb of Philadelphia, Pennsylvania, Steve McCurry studied film at Pennsylvania State University, before going on to work for a local newspaper. After several years of freelance work, McCurry made his first of what would become many trips to India. Traveling with little more than a bag of clothes and another of film, he made his way across the subcontinent, exploring the country with his camera. Many visits later he has photographed some of the most well known images of Asia over the last 20 years used in many international publications and has been a prolific author of photography books in his own right.

His images of India generally are here.

Images of Kumbh Melas are here

Poras Chaudhary          31st January 2015

Born in a small city of Northern India, Kurukshetra, Poras Chaudhary is a freelance photojournalist and a documentary photographer. Ever since he was a child, Poras has been intrigued by the visually striking moments, may they be special for their color, composition or just the moment's rarity in time. His passion for photography began in 2005 when he started looking for a good camera and came across the work of Magnum photographers. Poras is a completely self-taught photographer. He is best known for his color work and unique compositions. Some beautiful images here.

Jay Seldon          7th February 2013

Jay Seldon has over thirty years experience as a professional exhibiting photographer, teacher of photography, Abobe PhotoShop, and Adobe LightRoom, in high school and colleges in the NYC area, including, Parsons-The New School for Design, NYC, Bergen Community College and Essex County College both in NJ. Currently, he is an "artist-in-residence" working at the Montclair Art Museum in Montclair, NJ. India is just one of a number of countries Jay has photographed within.

Sephi Bergerson        

Sephi Bergerson Ihas been based in India since 2002 travelling extensively on assignments for various NGO's, magazines and corporate clients, writing a photo blog and workig on long term book projects.

The link to his India portfolios is below.
Marilyn Silverstone
From Wikipaedia  https://en.wikipedia.org/wiki/Marilyn_Silverstone
Marilyn Rita Silverstone (March 9, 1929 – September 28, 1999) was an accomplished photojournalist and ordained Buddhist nun.  Hers was an eventful life, and she is said to have proclaimed with undeniable truth: "I can say that I did it all."
Silverstone grew up in Scarsdale, New York. After graduating from Wellesley College, she became an associate editor for Art News, Industrial Design and Interiors in the early 1950s. She moved to Italy to make documentary art films.
Silverstone became a working photojournalist in 1955, traveling and capturing the range of images that her vision led her to find in Europe, Africa and the Middle East.
In 1956, she traveled to India on assignment to photograph Ravi Shankar. She returned to the subcontinent in 1959; what was intended to be a short trip became the beginning of a fascination with India which lasted for the rest of her life.[6] Her photographs of the arrival in India of the Dalai Lama, who was escaping from the Chinese invasion of Tibet, made the lead in Life.  As a photographer, she was begging to be taken seriously.
In that period, she met and fell in love with Frank Moraes, one of the great crusading journalists of his generation. Moraes was then editor of The Indian Express. The couple lived together in New Delhi until 1973, socializing in an elite set of politicians, journalists and intellectuals,  and diplomats.  A number of Moraes' editorials had earned the ire of Prime Minister Indira Gandhi and the situation deteriorated to the point that a retreat to London became the best course.
Over the years, Silverstone's reputation as a photographer grew. In 1967, she joined Magnum Photos,  in which she was only one of five women members.  Silverstone's work for Magnum included photographing subjects ranging from Albert Schweitzer to the coronation of the Shah of Iran.
At the time of Silverstone's death, preparation of an exhibition at the Scottish National Portrait Gallery featuring her work and that of other Magnum photographers was nearing completion.  The University of St Andrews hosted a seminar in conjunction with this exhibition, and as Silverstone had just recently died, the seminar became an opportunity for her peers to celebrate her life and career.
Silverstone's conversion to Buddhist nun could be said to have begun when she was an impressionable teenager suffering from the mumps.  She later explained that during this conventional childhood illness, she picked up Secret Tibet by Fosco Maraini and she said the book provided a key she long carried in her subconscious.
In the late 1960s, Silverstone had worked on a photography assignment about a Tibetan Buddhist lama in Sikkim named Khanpo Rinpoche and, when the lama came to London for medical treatment in the 1970s, Rinpoche stayed with the couple. At this point, Silverstone decided to learn Tibetan in order to study Buddhism with him. After Moraes's death in 1974, Silverstone decided to join the entourage of another celebrated lama, Khentse Rinpoche, who left London for a remote monastery in Nepal.
In 1977, she took vows as a Buddhist nun.  Her Buddhist name was Bhikshuni Ngawang Chödrön,   or Ani Marilyn to her close friends.  In her new life in Kathmandu (Nepal), she researched the vanishing customs of Rajasthan and the Himalayan kingdoms.
In 1999, Ngawang Chödrön returned to the United States for cancer treatment and she learned that she was terminally ill. She was clear that she wanted to die in Nepal, her home for the past 25 years. However, no airline would carry a passenger in her fragile condition. Typically, she resolved the impasse by persuading a doctor on vacation to accompany her on the return to Kathmandu.
The journey was fraught with difficulties. She was barely conscious during the trip and a stopover was necessary in Vienna. She died in 1999 in the Buddhist community she had worked to establish and maintain.
Books by Silverstone
Gurkhas And Ghosts: The Story Of A Boy In Nepal. London: Methuen Publishing, 1964. [reprinted by Criterion Books, New York, 1970. ISBN 0-316-92875-5.]
Bala: Child of India. New York: Hastings House, 1968. ISBN 0-8038-0670-1.
Ocean of Life: Visions of India and the Himalayan Kingdoms. New York: Aperture Foundation, 1985. ISBN 0-89381-195-5.
Magnum Photographs Portfolio     http://www.magnumphotos.com/C.aspx?VP3=SearchResult&VBID=2K1HZOL4PT1I6G
Magnum Profile   http://www.magnumphotos.com/C.aspx?VP3=CMS3&VF=MAGO31_9_VForm&ERID=24KL535FI3
Born in London in 1929, Marilyn Silverstone graduated from Wellesley College in Massachusetts, then worked as an associate editor for Art News, Industrial Design and Interiors during the 1950s. She also served as an associate producer and historical researcher for an Academy Award-winning series of films on painters.
In 1955 she began to photograph professionally as a freelancer (with the Nancy Palmer Agency, New York), working in Asia, Africa, Europe, Central America and the Soviet Union. In 1959 she was sent on a three-month assignment to India, but ended up moving to New Delhi and was based there until 1973. During that time she produced the books Bala Child of India (1962) and Ghurkas and Ghosts (1964), and later The Black Hat Dances (1987), and Ocean of Life (1985), a journey of discovery that aims to take the reader to the heart of a complex and compassionate Buddhist culture. Kashmir in Winter, a film made from her photographs, won an award at the London Film Festival in 1971.
Silverstone became an associate member of Magnum in 1964, a full member in 1967, and a contributor in 1975.
Silverstone, whose photographs have appeared in many major magazines, including Newsweek, Life, Look, Vogue and National Geographic, became an ordained Buddhist nun in 1977. She lived in Kathmandu, Nepal, where she practiced Buddhism and researched the vanishing customs of the Rajasthani and Himalayan kingdoms. She died in October 1999 at the Shechen monastery, near Kathmandu, which she had helped to finance.
Silverstone's photographic estate is managed by Magnum Photos under the direction of James A. Fox, a former Magnum Editor-in-Chief and present Curator.
Quotes
A photograph is a subjective impression. It is what the photographer sees. No matter how hard we try to get into the skin, into the feeling of the subject or situation, however much we empathize, it is still what we see that comes out in the images, it is our reaction to the subject and in the end, the whole corpus of our work becomes a portrait of ourselves. "
Ketaki Sheth
Richard Bartholemew
Sooni Taraporevala