A mile or so off the B3327 Taunton to Wiveliscombe road, a turning just before reaching Wiveliscombe, is a building called Quaking House. Purchased in 1679 the Quaker meeting house was registered in 1684 and abandoned in 1753 when a property was obtained in the nearby village of Milverton. The burial ground has continued to be used.
Situated some distance from what appears to be the original Quaking House ( see below ), the burial ground sits in a little copse, with trees both within its boundaries as well as surrounding it on 3 sides. A winding path leads from its gate through grass, up a slight rise passing yew and beech trees and through ivy and cyclamine, to the grave markers lying flat on the ground and a wooden seat carved out of a log at its topmost boundary.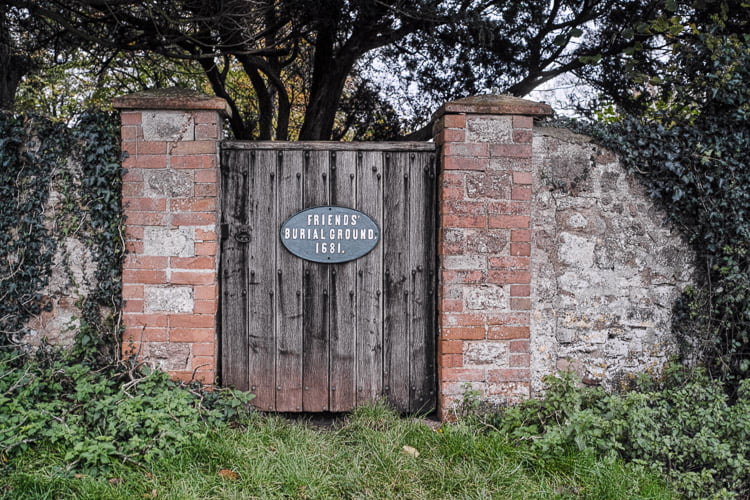 The site is dated 1684, and prior to the Act of Toleration 1689, so to be a Quaker at that time was a criminal act and many endured prison sentences for their religious choice. Although providing some respite from repression, the Act continued the existing social and political disabilities for Dissenters, including their exclusion from political office and also from universities. Dissenters were required to register their meeting locations and were forbidden from meeting in private homes. Any preachers who dissented had to be licensed.
Regarding the authenticity of the Quaking House, Edward and Mary Pole were prominent Quakers living between Milverton and Wiveliscombe at this time.  In 1679 Edward Pole provided a small parcel of land on the parish boundary between Wiveliscombe and Milverton for use as a Quaker Meeting House and burial ground. Later his grandson, Thomas, provided for a new Meeting House in Milverton and the old meeting house retained the name Quaking House.
The house has long gone but few hundred yards north of this site was a farm known as Warrens in 1840. A later owner took the signpost from the end of the lane and erected it again in the garden of Warrens. It is now claimed that this house was the former meeting house but the claim is false. Tithe maps of that period confirm the correct site of the old Meeting House.
These are photographs of several grave markers.