English folk custom is at its very best when it portrays dark and 'weird'.   Tony Forster,  the 'boss' of Pig Dyke Molly says on their website 'Rum old thing, the Molly tradition. So little is written down, and that is so obviously any old rubbish they happened to remember'.  He finishes the same page,  after recounting some of the traditions from Fenland through the eyes of Sybil Marshall and her 1967 book Fenland Chronicle,  that  'Pig Dyke is proud to be weird, proud to amuse, proud to confuse, proud to entertain (we hope) through our whole performance, including the lies that introduce the dances. We believe we are true to Molly's anarchic roots and have created something for audiences of the twenty-first century to enjoy – even or especially the ones who hate folk'.
Before we touch on Molly dancing's 'anarchic roots',  Pig Dyke Molly is a Morris Dance group from England's Fenlands,  and joins a coterie of other Molly Dance groups from the same region including  the well known Seven Champions.  Tony Forster compares the dancing style of the 2 groups and believes his ' are a tribute to Seven Champs – our tribute is that we react strongly against it. Champs style works brilliantly, but it just isn't all there is, though widely copied, and is no more "correct" than any other style.'  Then he goes into a description of the methodology of Morris Dancing,  and I am afraid loses me.  This was from an interview he gave to Mardles, a 'high quality, quarterly magazine with events guides, clubs and society listings, reviews of folk events and recordings, songs, tunes, dances, news and information, contact details and adverts for all things folky' in Suffolk.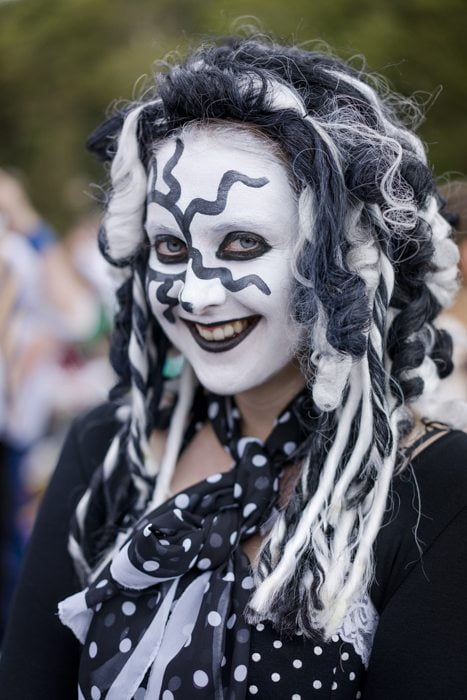 Wikipedia suggests that 'Molly dancing is a form of English Morris dance, traditionally done by out of work ploughboys in midwinter in the 19th century'.  It asserts that  Molly Dancing has enjoyed a popular revival both in East Anglia and the East Midlands.   The largest regular meeting of Molly Dancers is at the Whittlesea Straw Bear Festival, established 1980, which is held in Whittlesey, Cambridgeshire, every January.
Prior to its revival, Molly dancing had been occurring in many parts of the English Midlands and East Anglia but had died out during the early 1930s, the last dancers seen dancing in Little Downham near Ely, Cambridgeshire in 1933 when a tango was performed by two male dancers, one dressed as a woman.  The Folk Tradition dictates that its activities are recorded and again Wikipedia relates that  'The only recorded Molly dances come from Comberton and Girton, villages just outside Cambridge, researched by Russell Wortley and Cyril Papworth. Some examples of the music played for the dancers have survived. These include George Green's College Hornpipe, collected from the Little Downham Melodeon player'
Molly dancing could also be found in north Manchester and Salford on and around May Day (last recorded  in Salford c1963). Though (at least by this date) there was no dancing as such, just children dressing up, the boys dressed as girls, and wearing rouge, who would then journey from house to house asking for small amounts of cash.  Molly dancing in Manchester was subject of a BBC Radio 4 Making History programme, and elicited a wide response from readers who remembered taking part. The tradition died out rapidly in the late 1950s, in large part because of post-war slum clearance programmes, which resulted in the widespread demolition of housing, and the break-up of communities throughout Manchester.'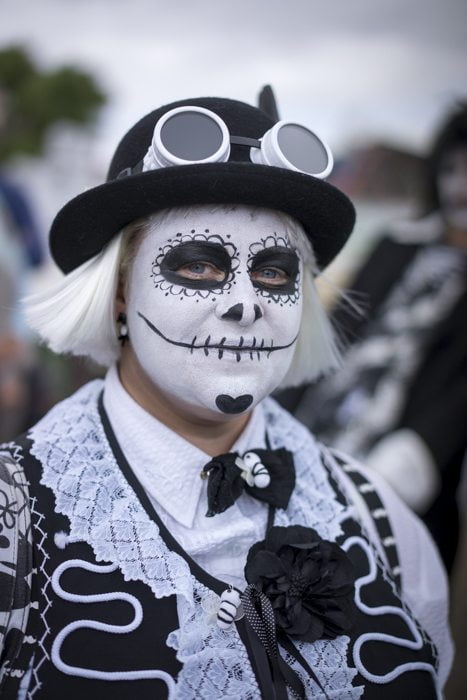 Molly dancing is most associated with Plough Monday, the first Monday after Epiphany. Tradition has it that as a way of filling the gap between Christmas and the start of the Spring ploughing season, the ploughboys would tour around the village landowners, offering to dance for money. Those who refused would be penalised in various ways ( similar to trick or treat ) including having a furrow ploughed across the offender's lawn.
The dancers, wishing to gain employment from those same landowners shortly afterwards, would attempt to conceal their identities by blacking their faces with soot and dressing up in a modified version of their Sunday Best, typically black garments adorned with coloured scarves and other fripperies. It was originally an all-male tradition but with one of the members—the Molly—dressed up as a woman.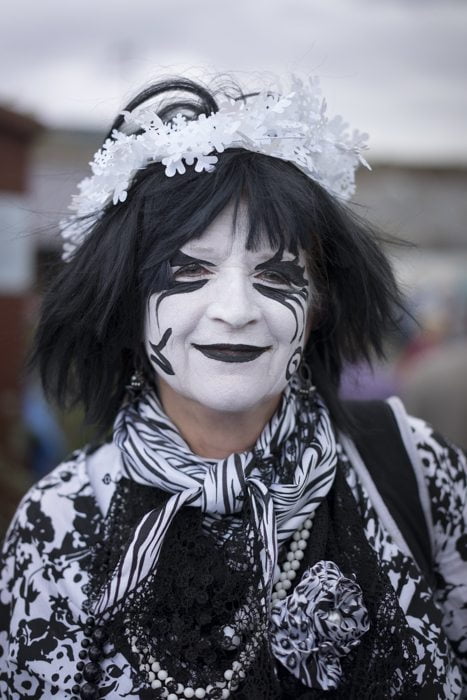 On the Pig Dyke Molly website. Tony Forster goes on to say:
'The Fens has always been a weird place too. from the Peasants Revolt through the drainage system sabotage to the Littleport Riots, Fen people have been frequently revolting – nineteenth century newspapers didn't regard Molly as very proper:
"The annual vagabondry of the plough witches took place on Monday, to the annoyance of a great number of the inhabitants. These witches principally represent themselves to be agricultural labourers from the neighbouring villages, and disguised in women's clothes or with blackened faces, make pertinacious demands to all meet for money, entering your house with the greatest effrontery if they can do so unmolested. We really think that this custom would be more honoured in the breach than the observance; all responsible workmen now hold themselves aloof from this idle practice and it is confined chiefly to the lazy and the dissolute, against whom the police might swiftly put in force their authority for the quiet of the town.

A quantity of wild bucolic dances was executed in the street to the enchanting accompaniment of a hurdy-gurdy and a badly tuned fiddle, whilst passers-by were attacked mercilessly for coppers…"
Pig Dyke costumes also contribute to the creation of weirdness. Forster suggests that historically Molly dancers grabbed whatever they could that was bizarre: being painted to resemble Red Indians, dressed and beribboned in a most grotesque fashion to represent various beings, human or otherwise. Costumes included a variety of animal heads – not masks but full heads which were kept from year to year.
The music which accompanies the dancing is also unique, inspired originally by the late Robin Griggs and is uncharactistically for folk tunes based on rock and jazz music. The dances themselves are equally idiosyncratic, more hedonistically flamboyant than the 'military discipline' of conventional morris dance. Attraction to audience is fundamental to the Pig Dyke style and the dance style is as varied as the costumes used.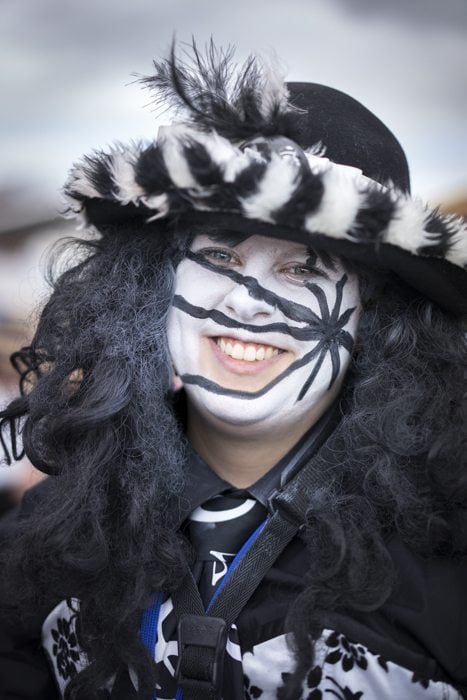 Regarding its anarchic roots, a molly house in 18th-century England was a tavern or private room where gay and cross-dressing men could meet each other either for socialising, including meeting possible partners. Molly houses predated the modern notion of 'gay bars'. The most famous molly house was reputed to be Mother Clap's, open for two years from 1724 in Holborn, then a suburban parish of Middlesex a short distance from the City of London. Wikipedia suggests that 'Patrons of Molly houses formed a distinct subculture in Georgian England. They would take on a female persona, have a female name, and affect feminine mannerisms and speech. Marriage ceremonies between a Mollie and his male lover were enacted to symbolise their partnership and commitment'.
The term 'molly" was used to denote an effeminate, usually homosexual, male and can be considered a forerunner of the broader 'homosexual' identity of our contemporary society.
These images are portaits of Pig Dyke Molly dancers taken at Sidmouth Folk Week in August 2015 and the information taken from both their own website and Wikipedia. There is, of course,  no suggestion that members of the Pig Dyke Molly group are in any way associated with Georgian and later historical descriptions.