I had a completely raw, heart-felt, visceral engagement with the city. Almost every night that I spent in Benares I would go to sleep very, very desperate to wake up and have another chance to absorb what was there and connect with it. The city of Benares is an intense combination of fairy tale and nightmare. It is a very holy place to people and every day they come there by the hundreds, or thousands. It's a never ending pilgrimage. At the same time it's such a dark place where death is ever present. There's just this poetic chaos to it, a beautiful urgency. Michael Ackerman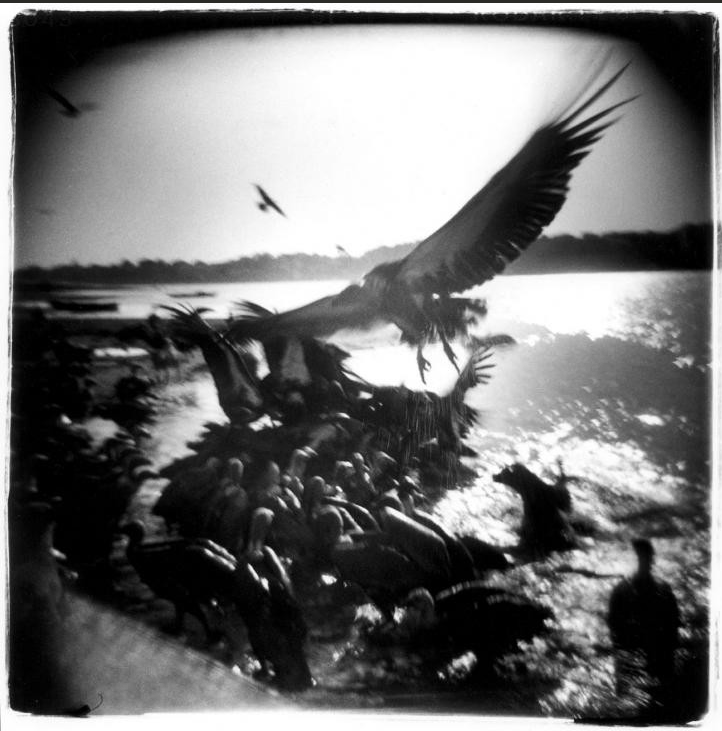 Michael Ackerman, born in Tel Aviv in 1967, at the age of seven he moved to New York with his family. He has been a professional photographer since 1990. He began working in the streets, in nightclubs and in the dock area of New York. In 1993 he made his first visit to India shooting in Calcutta, New Delhi and Benares. In 1994 he returned to India to continue his work in Benares. In 1998 the photographs he took in India earned him the Infinity Award from the International Center of Photography in the young photographers category and in 1999 "End Time City", his atmospheric photographs of Benares, received the Nadar prize as the best photographic book of the year. In the following years he worked in Poland, in Marseilles, in Naples and in Havana. In 2001 he published his second book "Fiction". From 1997 to the present day he has had many exhibitions throughout the world, among which have been those in New York, Berlin, Milan, Rome, Madrid, Barcelona, Krakow and Paris.
His photographic process described in his own words :
"I try to avoid the pitfalls of reality while maintaining a link with it. Photos are not inventions but encounters. I'm not looking for any aesthetic. That everything is haunted will not be completely intentional. But for me, photography is inseparable from the loss…..Some photos come out of nowhere, I don't remember having taken them, they are linked to the reality of what I felt. "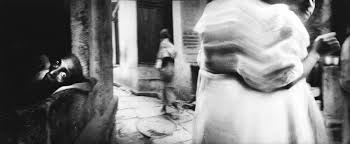 End Time City features a number of film camera formats including pinhole cameras. The images are atmospheric and grainy monochrome and capture the city in a very personal dream-like way. The book is now out of print and either very expensive or difficult to obtain. A link to a gallery of the images is here. A video link of the book's images is below.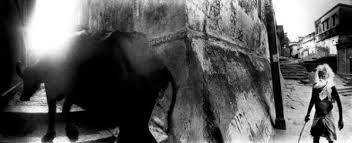 Interview with Bleek magazine : http://bleek-magazine.com/interviews/michael-ackerman/
To be able to speak about Michael Ackerman's works you need to invent a new language. Just what he did himself in the visual sphere, presenting his view of the world "stretched between fact and fiction" in a style which today is described by critics as "enigmatic" and "anguished". The winner of the Nadar Award for his book "End Time City" (1999) and the International Center of Photography Infinity Award (1998), a real Carlos Castaneda in contemporary photography, Michael is believed to be one of those artists who have had the greatest influence on the younger generation in the last 15 years.
Bleek Magazine: Time is the only thing we cannot control in our life. It drains inevitably and photography can be one of the ways to deceive it. In one of the few interviews you had once you mentioned that your sources of inspiration are the same as everyone else's, "being alive and being award of death". Is photography your way of staying alive after the cuckoo keeps silent? Do you feel comfortable in your relations to time?
Michael Ackerman: You mean is photography a way to be immortal? Of course not. But it is a way of keeping. Holding on to some things I care about. It's a form of preservation. As for the previous question – I don't feel at all comfortable in relation to time. I'm so obsessed with time passing it that it can be paralyzing. I think about it too much and do too little. I waste a lot of time thinking about it.
Bleek Magazine: Do you feel alive when you photograph? What does it mean for you – to be alive?
Michael Ackerman: When I'm photographing I feel very connected to what I'm photographing so I do feel more alive in that moment. It's an urgent feeling. When you ask me what it means to be alive do you mean as different from merely existing? Maybe it's passion, love, a real belief in something that you know to be true. Also being able to learn, to evolve. To not be fixed.
Bleek Magazine: What photography is alive and what is – dead?
Michael Ackerman: Maybe the photography that questions stays alive and the photography that explains is dead?
Bleek Magazine: What is common for people and for places that you choose to photograph?
Michael Ackerman: I think what they have in common is that they are mysterious. Also they are, unpredictable, vulnerable, generous and necessarily imperfect.
Bleek Magazine: Do you understand it from the very first gaze at a stranger that you want to photograph them?
Michael Ackerman: Very often I see somebody and they intrigue me and I wish to photograph them but I don't know how. I mean how to make it more than just an interesting face. More than a portrait. It takes time, persistence, belief and luck to penetrate the surface. I need the people I photograph to offer me a way in. That's why I say they are generous and brave. And I also need to be brave to accept what they offer. Often I'm not.
Sometimes I follow somebody who fascinates me or wait for them to get off the metro before I approach them because I'm too shy to approach them in front of other people and also I don't want to make them feel uncomfortable. Most of the time I talk myself out of it. I walk away. I'm scared or I tell myself it won't work, it's not good enough. The usual rationalizations to avoid something, to avoid confrontation. Sometimes I go for it and it works.
Photography is a process of discovery and revelation. You need to make the pictures because they lead you to the next. They teach you what you are looking for. They teach you about the people who you are touched by.
Bleek Magazine: Maybe you can share a few episodes from your life about people (strangers) you found immediately interesting and thus photographed?
Michael Ackerman: There are some people who I've met in passing and photographed repeatedly after because I can't reach the first time what I know is inside them, what they have to reveal. Also because when someone has such a strong hold on me that I need to photograph them, whether it's a stranger or a friend, or my daughter, the fascination usually doesn't end. I feel can photograph them forever.
For example, there is this set of pictures of a woman I met on the street, in Harlem. It's a very intense corner, and often hostile to a white boy with a camera. I go there often when I'm in New York but it's not easy to get close and be trusted. I saw this woman who was very witchy. I could sense that she was open. I started to speak with her and after some time she invited me to her home. These pictures come from the third time I saw her on the street and went home with her. She fell asleep.
Bleek Magazine: Has it ever happened that people whom you for various reasons never photographed somehow remained better in your memory?
Michael Ackerman: No. I don't believe that photography is a substitute for memory. Just like writing is not a substitute. They are transformations of memory, of experience. So I don't think that not photographing someone allows you to remember them better.
Bleek Magazine: Does it feel different when you photograph your own child? I am sure a little girl who appears so much in the film must be your daughter, she is so open, so strong and vulnerable at the same time…
Michael Ackerman: In many ways it is not different. As you say she is powerful and vulnerable. I think the pictures of her and of her and my wife, deal with the same things, ask the same questions that the rest of my work does. But of course it's different. These pictures are more directly about me, my fears and my love for them.
Bleek Magazine: In this region many people believe that showing others the images of their babies can hoodoo kids, so they prefer, for example, post these pictures publicly when the child is big enough. How did it feel for you to show the pictures of your close people – they are shown as really very vulnerable, and the pictures are so intimate and genuine…
Michael Ackerman: I have to decide what I can and can't expose of her. Some pictures are too much on the edge. I think that edge is different for everyone. For her mother, they are all too vulnerable. I have to believe that what I show is right. And important.
I give you an example of a picture of my daughter that I have trouble with (Garden 2016). It's a very simple picture and not good enough to stand on it's own. It doesn't transcend. If I were to include it in my work it would be a little fragment in a story. But this picture is painful for me. And probably only for me. It is more true to the fear and fragility you feel being a parent than the better, more dramatic or beautiful pictures I made of her.
Bleek Magazine: Among your pictures one can often notice images of planes that seem to be marking something more than a formal change in the geographical location – they look more like a reference to some inner journey. You seem to be looking at different places, but continuing to look for yourself, like looking at how every single place remains the same. Is photography a mirror then or a spyglass? Do we photograph others or – inevitably – in all the places we visit we see only ourselves?
Michael Ackerman: I didn't mean to make any statement with the airplane pictures. I completely fascinated by airplanes. I stare at them with big eyes like a child or a dog. I love to see them from the outside and I hate to be in them. After many years of trying to photograph them I finally managed to get a few pictures that I like very much so I tried to put as many of them in the slideshow as possible without overdoing it. Obviously they can be read as a sign of displacement. I never feel at home and I really long for that feeling.
As for the question of mirror or spyglass, it is not about oneself or about others – it's always both.
Bleek Magazine: Can photography at all be taught, if it is so subjective? What is the role of the teacher then here – to help another person see (understand, accept…) him/herself?
Michael Ackerman: I think the role of the teacher is to offer possibility and hope. Kind of like a good psychologist.
Bleek Magazine: You said that you teach your students "to make mistakes"? Could you explain what you mean? Under which conditions can mistakes lead to understanding yourself and your own way in photography?
Michael Ackerman: Mistakes are what you learn from. They break the comfortable barriers that we surround ourselves with. The rules, the correct safe boring way of doing things. If you are searching you never stop making mistakes.
Bleek Magazine: Is photography a way of genuine artistic expression or a dialogue? How important is it for you to be really heard by a person who will have a contact with your photography? Or you leave your viewer with total freedom of interpretation? Whose mirror is photography then – yours or the viewer's?
Michael Ackerman: I think I try to put pictures together, in exhibitions or layouts or this "movie" I sent you in as open and intuitive way as possible. I don't want to limit their interpretation. I want it to be infinite. I like when people see in my works something I don't.
Bleek Magazine: I know that some of your favourite subjects are trains and bars – ironically they have so much in common. Why do you find them attractive?
Michael Ackerman: They both have chairs and drink. They are both shelters.
PS. My great friend and great film maker Jem Cohen wrote an essay about my work titled «Suspension». Among many things, he dealt with trains and bars and how time is suspended in both. Here are a few lines he wrote:
«A bar is something like the center of an hourglass: at the top is time disappearing, and at the bottom, time spent. But to those in the place, the regulars, the middle is the only thing apparent and there time has stopped.
Michael deeply loves the snow trains that cut archaically through Europe, especially through Eastern Europe, especially the overnight trains which he and I share as our transportation of choice. On these you travel but are nowhere for the duration of the trip, floating through whiteness if it's wintertime».
Other publications :
Israeli/American Photographer | Born: 1967
Born in Tel Aviv, Israel. His family moves to New York in 1974. Lives and works in Warsaw.
Selected Publications
2wice, Abitare, Aperture, Art On Paper, Beaux Arts, Die Zeit, Doubletake, Eyemazing, French Photo, Granta, Harpers, India Magazine, La Humanite, Internazionale, Les Inrockuptibles, Liberation, Le Matin, Le Monde 2, Metropolis, New York Magazine, The New York Times Sunday Magazine, The New Yorker, Ray Gun, La Repubblica delle Donne, Rolling Stone, Stern and The Village Voice.
Awards
SCAM Roger Pic Award, 2009.
Prix Nadar, End Time City, 1999.
Best Documentary of 1999, photo-eye, 1999.
Infinity Award, Young Photographer, International Center of Photography, 1998.
2014
L'intuition – A projection in collaboration with musician Vincent Courtois, curated by Christian Caujolle. Performed In la Friche Belle de Mai, Marseille, 4 Fevrier Le Lux Scene national de Valence, Festival Banlieues blues, Paris and Rencontres photographiques d'Arles
Selected solo exhibitions
2014
MC2 Gallery, Milan, Italy
Foto Istanbul, Turkey
2012
Argus Foto Kunst, Berlin, Germany
2010
Galerie VU', Paris, France.
Centre Regional d'Art Contemporain, Sète. France.
Stimultania, Strasbourg, France.
2007
Fotofestival, Mannheim, Ludwigshafen and Heidelberg, Germany.
2006
Camelot Gallery, Krakow, Poland.
Van Der Grinten Galerie, Cologne, Germany.
FAS Galerie, Berlin, Germany.
Rencontres D'Arles, Arles, France.
2005
Hermès Gallery, New York, USA.
Alchemia Gallery, Krakow, Poland.
2004
Galerie VU', Paris, France.
Kerrigan Cambell Art + Projects, New York, USA.
Alchemia, Krakow, Poland.
2002
Pantherei Gallery, Munich, Germany.
The Museum of Contemporary Art, Belgrade, Serbia.
The Naarden Photography Biennal, Naarden, Netherlands.
2001
Galerie VU', Paris, France.
2000
Scalo Gallery, Zurich, Switzerland.
Argos Photography Festival, Vevey, Switzerland.
Foksal, Nyon, Switzerland.
Atelier De Visu Marseille, France.
1999
Galerie VU', Paris, France.
Margaret Bodell, New York, USA.
Chronique Nomades Honfleur, France.
Centre Atlantique de la Photographie, Brest, France.
Grazie Neri Gallery, Milan, Italy.
1998
Zentrum Für Fotografie Berlin, Germany
Photography Festival ,Vigo, Spain
La Bibliothèque Centrale Elsa Triolet, Bobigny, France.
Margaret Bodell, New York, USA.
1996
Margaret Bodell Gallery, New York, USA.
Museo Ken Damy, Brescia, Italy.
1990
Albany Center Galleries, Albany, USA.
Teaching Work
2000 – Present
Workshops at various photographic institutions including The Internation Center of Photography, New York, Tuscan Photographic Workshops, Neue Schulle Für Fotografie, Berlin, Sapcio Labo, Italy, Agence VU, Paris.
All about SUSPENSION
Noun: Suspension, Verb: suspend:
"To cause to stop for a period, hold in abeyance; suspend judgment."
In Michael Ackerman's work, documentary and autobiography conspire with fiction, and all of the above dissolve into hallucination. The particular journeys of his book Half Life encompass New York, Havana, Berlin, Naples, Paris, Warsaw, and Krakow, but the locations aren't necessarily recognizable at all. Michael has been moving towards this erasure of geographical and other distinctions in his photographs for some time. It hasn't become dogma – the Smoke photographs shot in Atlanta's Cabbagetown remain a beautifully regional document, but they document a neighborhood as a particular dream state rather than a set of facts, and the photos could wander easily into his other bodies of work. In all cases, there is surely a trajectory away from the constraints of a traditional documentary mode towards a very different way of getting at the world.
Some notes about particular photos in Half Life:
A family, seen on a decaying porcelain tombstone portrait – solarized by decades of exposure – is falling apart, as families do, is holding on together, as families do. The shape of their little monument is uncannily like that of the Hotel Centrum on a later page, where such a family, had they existed in the same era, would not have been able to stay. The Centrum, a modern Polish megalith, floats absurdly in the frame, freed from all scale but heavy on the page.
A naked man kneeling on a bed; we find him in supplication or some unspecific bondage. He is trapped, caught between stations, and the terrible but accepted scratch lines on the negative make it feel like TV or video, as if the man is seen through some screen, receding. It's no longer a portrait of a particular person. It seems as if the man has become some vague entity, a sick feeling, a migraine headache, I don't even know.
A man goes up stairs or an escalator and his hand is ridiculously long, maybe like that of Nosferatu in Murnau's silent film. The stairs begin in Lodz but, according to the next page, pass a landing in Havana.
Suspension…
A woman, naked, holds her arms against her torso. She looks up, somehow in simultaneous surprise and recognition. I can't say if her face shows love or sadness or fear, but there's something inevitable in her expression. It's strange how she seems so caught in flux, while her shadow, so dark on the wall, is just the opposite, permanent.
* * *
In the early stages of his building the Half Life book, Michael and I talked about where to put the series of pictures taken from train windows, mostly in deep winter. At one point they were scattered throughout, at other times they fell together in a bloc, but in any case, the body of work, and the book as a whole, started to feel to me like they ran on rails in the snow, and the places and people within them were stops, things seen or felt in passing. They're encountered, drift away, are longed for, returned to, left behind again.
If Michael's work is sometimes tough, the landscapes remind us back to a balancing delicacy, a faith in beauty. Michael deeply loves the snow trains that cut archaically through Europe, especially through Eastern Europe, especially the overnight trains which he and I share as our transportation of choice. On these you travel but are nowhere for the duration of the trip, floating through whiteness if it's wintertime. This nothing in which things float is echoed in his prints, though the white is sometimes heavily vignetted, as if darkness wants in. Alternately, the backgrounds can be of total blackness, and then the subject radiates like a candle.
But back to the snow trains, which often run through the most ignored and beautiful parts of cities, where commercial facades drop away like forced smiles into debris and frozen mud and warehouses, which then give way to fields. Riding on one of these trains outside of Katowice, Poland en route to Paris, Michael spotted in the distance the warped row of dead train cars seen in the book. Desperate to photograph them, he guessed at their location and eventually returned. He got off at the closest stop, trudged through the snow, and found the trains, but approaching across a frozen field, camera in hand, his legs suddenly plunged through a chasm in the whiteness, a missing manhole cover. In what he referred to as a "rare case of quick thinking," he stuck out his arms, breaking the fall, and managed to pull himself out. No one knew he was there, and if he'd perished, it would've been for the love of trains, and of wreckage, and of course, of pictures.
Many in the panel of men at the beginning of Half Life were photographed in bars. Some were found in a bar in Paris where the old and ageless proprietor became one of Michael's favorite people, not just in the city, but in the world. Her bar was a special refuge, and though she was difficult, she truly took Michael in. This tiny bar remains a constant, a place of return, but many of the regulars he's met over the years are now gone. For some moments however, they drew, or seemed to draw, terribly close, with alcohol as glue and pictures proof — but of what… mutual need, eventual isolation, or the pendulum swing between the two…
A bar is something like the center of an hourglass: at the top is time disappearing, and at the bottom, time spent. But to those in the place, the regulars, the middle is the only thing apparent and there time has stopped. (An interesting circumstance for others in the time-stopping business, and not just still photographers. The phenomena is beautifully understood in Daumier's paintings of drinkers or Denis Johnson's Jesus' Son). It is illusory, of course; the people are held in that place where, like the proverbial cartoon character who's gone off a cliff, they just don't realize the ground has dropped away beneath their feet.
Once again, suspension. Which also has a musical definition: The prolongation of a tone in one chord into the following chord, usually producing a temporary dissonance.
This prolongation of tone, an ongoing search, gives the work continuity, as does the dissonance, which can be restlessness or loss. I won't talk much here about the emotional drive behind the work, or the personal ramifications, but that's my hesitation, not Michael's. There's a picture in Half Life of the photographer and a woman, both with shaved heads, a troubled mirroring, a last strange union. The photograph is a pact: see you now, see you later, so long…
In the last few years, such goodbyes have given way to a series of welcomings, explorations of the concrete changes and dream states of immediate family, wife and child. These pictures, deeply caring but by necessity fearless, reverberate with bluntness, warmth, shock, matter of fact erotics, and of course love, which when regarded honestly, includes a steamer trunk of contradictions. So, there is fear mixed in with the fearlessness, the joy includes some trepidation, the innocence is utterly real, but tangled and fleeting.
How disappointing it would be if a photographer so open to the wrenching truths of the world would suddenly pull all punches when faced with the most intimate situation of all. How unfortunate it would be, for all of us, if investigations of intimacy were left to the whitewashers and the advertisers, the puritans and the pornographers. And so, in the recent work, new tightropes are stretched and new risks are taken.
But in looking back at Michael's work as a whole, I'm reminded that one of the great challenges artists face is when to pull back from the proverbial edge – those addicted to pushing the envelope sometimes fall into a negative trap which has its own complacency. A kind or subtle or purely beautiful image might actually be the risk that they can't seem to take. The walking of tightropes has always been integral to Michael's work, but I don't see him falling into that dark trap, which is why the work is thorny but never cynical, heavy but also sweet.
Beyond all of that, I still don't understand how the pictures happen, how he gets them.
It certainly isn't about the equipment, the cameras come and go, sometimes literally broken but still pressed into use. I think Michael feels that taking pictures and taking chances should be kindred enterprises. I've met few artists less uptight about the technology and intricacies of gear and production, though he does of course become completely intimate with what he needs in order to get at what he feels. Once I heard him suggest in a Q & A that he just doesn't care about technique, but knowing the time and tortures he's given over to darkroom work, I thought that was a touch disingenuous. He meant that technique and technology are never the core of the matter, and that he doesn't like to be precious about them. And he needs accidents; they might reveal something, break something open. Sometimes they might go too far and the image itself is obliterated: again, necessary risk. I've seen him photograph without putting the camera to his eye, as if to confirm that what he was after wasn't primarily even about seeing. (That too is deceptive; with time, some photographers know what the camera is getting, regardless of where it's held). Maybe I mean that compared to many other photographers, Michael's work isn't so concerned with sight itself. If he could have been a writer, painter, or a musician, that might have worked too.
In any case, the results speak for themselves, and the results are often kind of insane. Sadly, because of the madness of these photographs and the digital times we've entered, people increasingly assume that certain pictures must be computer manipulations. Michael is no purist, but that simply isn't what is going on here.
Do you see how it matters that even if these are accidents of light and the distorting lens, they are things that somehow happened, that were? They come out of the real; however unlikely or impossible, they are measurements – not constructions. They are measurements, but in the end, of the interior as much as of the world.
But like I said, Michael's not a purist, and in his impure searching, he occasionally walks a thin line between accepting pure actuality and giving it a nudge. We argue about it. I don't know what to make of the picture where someone else's old portrait of Anna Akhmatova is held up and rephotographed. I guess Michael wanted to invite her into that streetscape, felt she was part of his history or emotional landscape; maybe he just loved her profile and wondered, what the hell, why not?
Sometimes the work is funny. The absurdly mismatched nude couple in the book aren't funny but they are, as is the man who wears a monocle made of smoke. The Coney Island hotdog signs reading 'Franks' and the American flag they stutter towards comprise a whimsical tribute to one particular, beloved photographer; first name – Robert.
Occasional whimsy aside though, Half Life is a rough ride through damaged places and situations. And what's it like to be with Michael when he's photographing such things? Well, it isn't necessarily comfortable, or easy, or pleasant. Sometimes artists push their work, and their luck along with it. Sometimes Michael just plunges in. I was crossing the street with him on the Lower East side once when a woman suddenly appeared, coming towards us in the intersection. Something in her presence struck us instantly with force — she might have been beautiful or she might have been mutilated — we had no time to register anything; but he lunged and got off one picture as I stood by and winced. I doubt she noticed at all, but what if she had? (The picture is in Fiction; it appears to be of a ghost in a miniskirt, perhaps with a black eye.) Such pictures do not come out of discretion, or delicacy, or fair exchange. In many of Michael's pictures mutual understanding simply may or may not have existed. There is a harshness to this observation; it troubles me, and yet I can say that Michael's pictures are always, deeply made without judgment, in total acceptance. That in itself is a kind of love.
And the subjects obviously extend him enormous trust. (Well… except when they don't. Walking with Michael on a street in Krakow, he photographed another approaching woman, a middle-aged matron. She yelled angrily at him in Polish; he kept walking but yelled back, in Polish: "You're beautiful.")
It is probably no accident then that the gesture of the embrace recurs again and again in Michael's work. Which leads me to what may be my favorite set of pictures that Michael has taken, of the couple on the stairs:
To what do we owe this strange and tender record ? And what is the record of?
An older man and his young girlfriend collapsed in drunken surrender… or perhaps a father and son broken together on a subway staircase ? Who is holding who up? Was the man once a boxer? If the younger one is in fact a woman, is she his lover? The stairs are at once unyielding and rippling, bending and unbending. This couple, whatever their relationship and circumstance, are attended to then in a series of photographs, equally harsh and gentle, unwrapped over time. But what time is given – minutes, hours, or an unending day or an unending night? You can just about hear the tinny loudspeakers in the background of the train station, and thinking of stations, I am reminded that the 13th station is the descent from the cross. The actual circumstances, the truth of it, the year and the gender, hardly matter, don't matter at all. At its best, the work speaks past such details, and even beyond photography.