Gerda Taro (born Gerta Pohorylle) was a photographer of war, as well as a work partner and companion of Robert Capa (born Friedmann Endre). She lived from 1910 until 1937 and was born in Stuttgart, Germany to a Galician Jewish family belonging to the middle class stratum. Taro is considered as the first woman photojournalist to document war frontlines and dying whilst doing this.

In 1929, Taro and her family shifted to Leipzig, just before the start of the Nazi era. She supported the leftists instead of the Nazis. In 1933, she was detained for campaigning against the Nazi government. Her entire family was forced to find residence in some other country than Germany. She and her family went to different abodes.

Escaping Hitler's rule over Germany, in 1934 Taro went to Paris. A year later, she met Rober Capa and became his assistant. During this time, she learned much about photography and eventually the two fell in love. Taro then became image editor at Alliance Photo.

Gerda Taro was given her primary credential as a photojournalist in 1936. Friedmann and Taro developed a plan of taking news related photographs and selling it by Robert Capa's name in order to conveniently get through the increasing political turmoil. However, soon their secret was discovered. Even then, Friedmann took over Robert Capa as alternative professional name and Taro's real name was Gerta Pohorylle which she changed to Gerda Taro after Tarō Okamoto (artists from Japan). In the 1930s, the duo worked in alliance and covered events close to the coming of the Popular Front power.

In 1936, when the Spanish Civil War sparked, Taro traveled to Barcelona. She recorded the events with David Seymour and Capa. The three documented the war in South of Córdoba and in the Northeast of Aragon. The early photos of war by them are distinct since Taro shot using a Rollei camera that produced squared photos and on the other hand Capa used rendered rectangle Lieca image. For a while in 1937, Capa and Taro worked using similar photographic films.

Afterwards, Taro refused the Capa's proposal for marriage and moved on with her career, independently. She became involved with the European anti- fascist intellectuals, such as George Orwell and Ernest Hemingway. Her work was published by a newspaper belonging to the leftists, Ce Soir. Later, she commercialized her work under the label, Photo Taro and distributed it to publications like Illustrated London News, Life, Volks Illustrierte, and Regards.

Her unaccompanied photographic documentation of the bombing in Valencia attained her the most renowned photographs. In 1937 July, her photos were in demand by the press internationally, when Taro was photographically covering Madrid's region Brunete for the magazine, Ce Soir. At the Battle of Brunete, Taro endured critical and multiple injuries and died.

Her political commitment gained her a anti-fascist label. The French Communist Party provided her with a magnificent funeral in France's city Paris.

In 2007, her work was displayed in a major American exhibition at the International Center of Photography.

Much after her death, Taro is still remembered. A novel by Susana Fortes, Waiting for Robert Capa is a fictional account of the life of Capa and Gerda Taro. In 2012, a British band sang a song called Taro for their album, An Awesome Wave. Moreover, The Mexican Suitcase is a documentary which narrates the story of Taro's 4,500 misplaced negatives. These negatives are in the possession of the International Center of Photography.
'Deathbed photo' of war photographer Gerda Taro discovered
Image purports to show photojournalist who died during Spanish civil war being treated by a doctor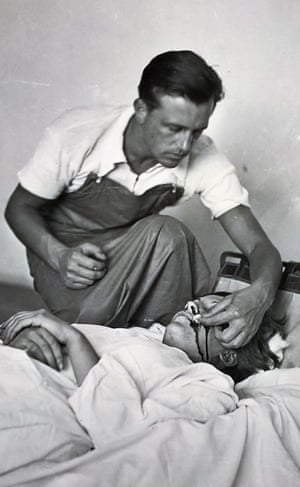 A photograph believed to be of Gerda Taro, one of the world's first and greatest war photographers, apparently lying on her deathbed in a hospital during the Spanish civil war, has been found 80 years after she was killed.
The photograph was published on Twitter several days ago by John Kiszely, a retired British lieutenant general, whose Hungarian father, Dr Janos Kiszely, was a volunteer doctor with the International Brigades who fought against Gen Francisco Franco during the Spanish civil war.
The photograph shows Dr Kiszely dabbing at blood that has trickled from the nose and mouth of a young woman with short, dark hair and finely plucked eyebrows. She looks remarkably like Taro, who died after she was knocked off the running board of a car by a tank during a fierce, chaotic battle near El Escorial, north-west of Madrid, in July 1937.
An inscription on the back in Spanish and English, which appears to have been added much later, reads: "Brunete Front, June 1937 (in Torrelodones) Mrs Frank Capa = of Ce Soire of Paris, killed at Brunete."
German-raised Taro, who carried a Polish passport, published her photographs in Ce Soir. She worked with the future Magnum agency co-founder Robert Capa, who was also her partner and first became famous as a war photographer in Spain. She died while photographing a chaotic retreat after the Battle of Brunete, shortly after Franco's troops had won a major victory.
By the time of her death, both Taro and Capa had become famous and Ce Soir organised a huge funeral for her in Paris.
Taro had ignored warnings from Capa and others to stay away from the frontline at one of the most dangerous moments in the war and, having used up all her film, had hitched a ride on the running boards of a general's car that was being used to ferry the injured. As they were strafed by German aircraft supporting Franco's troops near Villanueva de la Cañada, an out-of-control tank from the republican army ran into them and she was mortally wounded in the stomach.
She was still alive and conscious when she arrived at the British hospital in El Escorial, however, where she was operated on by the New Zealand surgeon Dr Douglas Jolly – but she died that night. Witnesses spoke of her face being covered with blood.
The following day, two of her friends, the Spanish poet Rafael Alberti and his wife, María Teresa León, received a call telling them the body was at the hospital.
"She shouldn't have been there. It was a far too dangerous part of the battle," said Jane Rogoyska, author of a recent biography of the photographer. "She got too involved, became a star reporter and overidentified with the republican cause. But she got into this conviction that she had to bear witness. The troops loved her and she kept pushing. Capa warned her not to take so many risks."
Kiszely told the Guardian his father did not talk much about the Spanish civil war, but had said he worked with an English field hospital, doing triage on the injured.
English volunteers encouraged him to go to Britain with them after the war, when the Hungarian embassy in Paris made it clear that, as a supporter of the leftwing republican side during the civil war, he would not be welcome in Hungary. He eventually settled on the Isle of Wight.
Kiszely was handed the photograph after his father's death by Reg Saxton, a British volunteer who had worked with the international medical services on the republican side.
"I never looked at the back," he said. "To me this was just a photograph of my father with another patient." But after he posted it on Twitter two days ago, Spanish civil war enthusiasts began to ask him more – and he then looked at the back.
Spanish media are hailing it as a remarkable find.
"It certainly looks like her," agreed Richard Baxell, a historian and expert on the Spanish civil war – though he also called for further investigation.
"My very first impression is that it does look very like Gerda Taro," said Rogoyska, adding that many people in Spain had thought that she was Capa's wife. "The thing that inclines one to think it is Gerda Taro is the short hair and those very thin eyebrows, and just the fragility of the body."
Rogoyska said further corroboration was needed about the origins of the mysterious photograph along with more information about Dr Kiszely's movements before anybody could be sure. "Otherwise it is guesswork," she said.
The inscription on the back of the photograph gives the wrong month for Taro's death and talks of Torrelodones, a town 15 miles away from El Escorial – adding further mystery. The fact it names "Frank Capa" suggests that whoever wrote it mixed Robert Capa up with the famous film director Frank Capra.
For many years photographs taken by Taro were attributed to Capa and Rogoyska said that, after her death and during the early Magnum years, their pictures often ended up being "lumped together".
"There was a covering over of her presence, not maliciously, but because there was no one there to say 'this is by him' or 'that is by her'," she added.
Capa co-founded the famous Magnum agency in 1947 and died after stepping on a landmine in Vietnam in 1954.