I am travelling to Spain in early September to assist with an archaeological dig featuring a previously undisturbed Spanish Civil War site. Arranged through the International Brigades Memorial Trust of which I have been a member for a number of years, a group of Spanish archaeologists, volunteers and students from across the world will be working with Dr. Alfredo González-Ruibal, archaeologist, to excavate a ruined house in the ghost town of Belchite. It is a house which has not been excavated before, although the same organisation has undertaken research at Belchite on a number of occasions previously.
The Spanish Civil War was a prelude to the 2nd world war. Starting in 1936 when a group of army generals rose up against the democratically elected government the conflict lasted for almost 3 years until the Spanish Republic's forces were finally defeated in 1939. The generals essentially represented the traditional values of a society where the Roman Catholic church, rich landowners and other associated organisations had long dominated but were feeling undermined by a liberal, progressive and modernising Republican government. General Franco was unlawfully appointed by his peers to lead the coup, supported initially by his African Army troops from Morocco, and eventually strengthened by logistical support from Mussolini's Italy and Hitler's Germany.  Both ground troops, armaments and air support were provided, and strategies were practiced and developed which were later to be used to maximum impact in the global conflict to follow. The Republican Government received support from Russia, troops from it's own political movements, including the Confederación Nacional del Trabajo anarchist movement and, importantly for propaganda as much as for military reasons, from the International Brigades.
The conflict lasted for 2 years, 8 months, 2 weeks and 1 day. What was initially considered to be an easy victory by the Nationalists, who raced towards Madrid anticipating little or no resistance in the first weeks, became a war of attrition marked especially by the sheer numbers of people who died away from any conflict,  often as victims of atrocities.  Thousands were summarily executed and deposited in mass graves and many prisoners were confined, and died,  in concentration and work camps throughout Spain. The war ended on 1st April 1939 following the Republican defeat of Barcelona and the entire Catalan region late January,  and a subsequent full offensive against Madrid led to victory on March 31st.  Franco was to rule oppressively for a further 36 years, continuing to weed out those politically opposed to him until his death on 20th November 1975 aged 82 following which Spain was encouraged to return to democracy.
International Brigades
The International Brigades were military units made up of volunteers from 53 different countries who travelled to Spain in order to fight for the Second Spanish Republic. The number of combatant volunteers has been estimated at between 23,000–60,000, though with no more than about 20,000 active at any one time. A further 10,000 people probably participated in non-combatant roles and about 3,000–5,000 foreigners were members of left-wing political organisations. It was common for people from different nationalities to fight together and the Battalions collectively were certainly important contributors to a number of conflicts, including the Battle for Madrid, the Battle of Jarama and the Battle for Guadalajara.
An estimated 5,857 to 25,229 brigadiers died in Spain with estimated death rates of 16.7% to 29.2%. These high casualty rates are blamed on lack of training, poor leadership and use as 'shock troops'.
A list of the various Brigades would include :
• Abraham Lincoln Battalion: from the United States, Canada and Irish Free State, with some British, Cypriots and Chileans who lived in New York and were members of the Chilean worker club of New York.
• Connolly Column: This mostly Irish republican group fought as a section of the Lincoln Battalion
• Mickiewicz Battalion: predominantly Polish.
• British Battalion: Mainly British but with many from the Irish Free State, Australia, New Zealand, South Africa, Cyprus and other Commonwealth countries.
• Commune de Paris Battalion: predominantly French.
• Deba Blagoiev Battalion: predominantly Bulgarian, later merged into the Djakovic Battalion.
• Dimitrov Battalion: Greek, Yugoslavian, Bulgarian, Czechoslovakian, Hungarian and Romanian. Named after Georgi Dimitrov.
• Dabrowski Battalion: mostly Polish and Hungarian. Also Czechoslovakian, Ukrainian, Bulgarian and Palestinian Jews. See also Dąbrowszczacy.
• Edgar André Battalion: mostly German. Also Austrian, Yugoslavian, Bulgarian, Albanian, Romanian, Danish, Swedish, Norwegian and Dutch.
• Español Battalion: Mexican, Cuban, Puerto Rican, Chilean, Argentine and Bolivian.
• Figlio Battalion: mostly Italian; later merged with the Garibaldi Battalion.
• Garibaldi Battalion: Raised as the Italoespañol Battalion and renamed. Mostly Italian and Spanish, but contained some Albanians.
• George Washington Battalion: the second U.S. battalion. Later merged with the Lincoln Battalion, to form the Lincoln-Washington Battalion.
• Hans Beimler Battalion: mostly German; later merged with the Thälmann Battalion.
• Mackenzie–Papineau Battalion: the "Mac-Paps", predominantly Canadian.
• Naftali Botwin Company: a Jewish unit formed within the Palafox Battalion in December 1937.
• Pierre Brachet Battalion: mostly French.
• Rakosi Battalion: mainly Hungarian, also Czechoslovakians, Ukrainians, Poles, Chinese, Mongolians and Palestinian Jews.
• Nine Nations Battalion (also known as the Sans nons and Neuf Nationalités: French, Belgian, Italian, German, Austrian, Dutch, Danish, Swiss and Polish.
• Six Février Battalion ("Sixth of February"): French, Belgian, Moroccan, Algerian, Libyan, Syrian, Iranian, Iraqi, Chinese, Japanese, Indian and Palestinian Jewish.
• Thälmann Battalion: predominantly German, named after German communist leader Ernst Thälmann.
• Tom Mann Centuria: A small, mostly British, group who operated as a section of the Thälmann Battalion.
• Thomas Masaryk Battalion: mostly Czechoslovakian.
• Chapaev Battalion: composed of 21 nationalities (Ukrainian, Polish, Czechoslovakian, Bulgarian, Yugoslavian, Turkish, Italian, German, Austrian, Finnish
• Swedish, Norwegian, Danish, Belgian, French, Greek, Albanian, Dutch, Swiss and Baltic).[16]
• Company De Zeven Provinciën:Dutch
The Brigades were disbanded during the Battle of the Ebro in September 1938 when the Republican government tried to persuade Western democracies such as France and Britain to end their arms embargo on the Republic. The attempts failed. Most soldiers were repatriated to their own countries and others who could not return to their own countries for political reasons were absorbed into the Spanish units of the Popular Army.  On disbandment, 305 British volunteers left Spain.  They arrived at Victoria Station on 7 December, to be met by a crowd of supporters including Clement Attlee, Stafford Cripps, Willie Gallacher, and Will Lawther. On 26 January 1996, the Spanish government gave Spanish citizenship to the Brigadists. At the time, roughly 600 soldiers remained.
Memorials have been established in most of the Brigades originating countries and organisations remembering the Brigades and its members exist throughout the world. Both the commemorative organisations and those who volunteered and fought are considered to be on the political left. Memorials within the Uk can be found here on the International Brigade's website.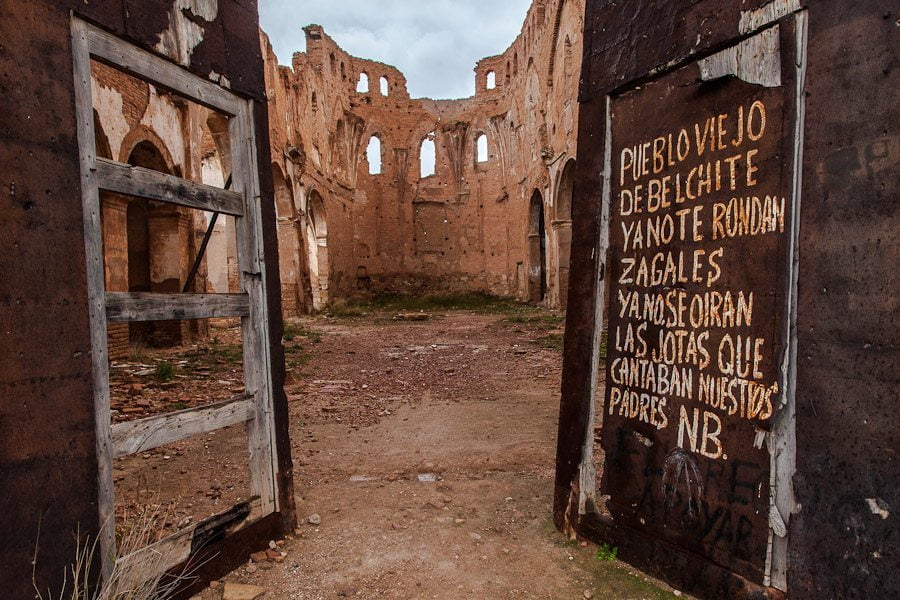 Belchite
Belchite is a municipality and village in the province of Zaragoza, Spain, about 40 km southeast of Zaragoza. It is the capital of Campo de Belchite comarca and is located in a plain surrounded by low hills, the highest of which is Lobo. The area around Belchite is one of the most arid places of Aragon.  It can be considered unusual in that it has 2 locations; one is a ghost town completely destroyed in 2 battles in the Civil War and left as a 'living' memorial to the war by edict of General Franco. The other is the modern town built in 1939 to replace the one destroyed.  Both sit next to each other in the flat dark red earth with only a road dividing them.
I have visited old Belchite on 2 occasions before but did not stay any longer than 2 days on either occasion. On both of those visits the site had been completely open and free to visit without restriction, and visitors walked wherever they wished. I recently have read that a perimeter fence surrounds the ruins and visitors are only allowed to enter on escorted tours of 90 minutes duration. There is also a fee of 6 Euros to enter.  Some of the ruins within the town are also considered too dangerous and access is no longer permitted. Photographs from my earlier visits are displayed in this account. The ruined town has been featured in a number of films including del Toro's Pan's Labyrinth and Terry Gilliam's Adventures of Baron Munchausen.
On the second visit to the town I was accompanied by my son,  who was 18.  We were travelling circuitously from Barcelona to Madrid via Teruel and return by Valle de los Caidos,  the latter the burial memorial of General Franco which had been consecrated as a Basilica by Pope John XXIII in 1960. In fact it was originally larger than St Peters Basilica in Rome until a partition was erected to avoid an embarrassing comparison.  Here we attended Mass on the 20th November of that year.   This significant date was not only the anniversary of the death of Franco but also of Primero de Rivera,  the founder of the right-wing Falange movement of which Franco had been a member.  Franco had allowed Rivera's remains to be re-interred in the Basilica once it was complete and upon his own death he was buried just several feet away. To commemorate both men the date of 20th November had become a day of mourning for followers of the Right in Spain,  and on the anniversary day we visited the huge Basilica was packed full of both family and supporters undertaking a fascist celebration for the lives of their ideological masters.,  The Mass culminated in sombre lines of people waiting to pay their annual respects by making fascist salutes at the graves of both Franco and Rivera in the vast subterranean tomb.  Having read Giles Tremlett's account of this anniversary event in his Ghosts of Spain book,  I had wanted to see it for myself.
Returning by the north of Madrid we drove almost to Zaragoza before turning south towards Belchite. We crossed the dusty featureless landscape as night descended and arrived in Belchite in a pea soup fog and could literally see nothing.  Late, we decided to sleep as best as we could in the car.  We woke again in the fog early morning and gingerly began driving through the town to try to find the ruins.  Fortunately we were stopped by police who eventually guided us to an arch of red bricks ,  where enormous wooden doors guarded the entrance to the ghost town.  We walked into old Belchite in a dense fog in which we could hardly see 5 feet in front of us.
As morning wore on and the late warm autumn sun began to shred the fog,  more of the landscape became visible.  Soaring towers of brick and concrete loomed in the encircling fog above us,  walls stood vertically with no roof attached to them or the buttress of other walls to support them,  lines of cascading wooden lintels and floor beams vanished into the gloom like distorted ribs from a giant animal,  mounds of red earth with piles of equally red bricks passed by as we walked on.  Windows without glass and doors which could not open slipped by,  our feet sometimes stumbling on bricks on what seemed like a path we were following.  A huge iron cross shimmered in and out of vision,  and a large tower next to it with an open door and a circular staircase rose into the mists.  My son entered the door and climbed the staircase and I could hear him shouting down at me but could not see him,  his voice disembodied and echoing.  'Dad it's fantastic.  I can see all across.'  He came down clutching his camera,  a Canon D40 with a cheap zoom lens, and showed me the photographs he had taken above the mist,  of the mist but with church towers and the tops of shattered houses visible rising like islands and a bright sun and blue sky.
The mist eventually cleared and I saw clearly for the first time that we were in the centre of a war zone but spatially displaced by some 70 years.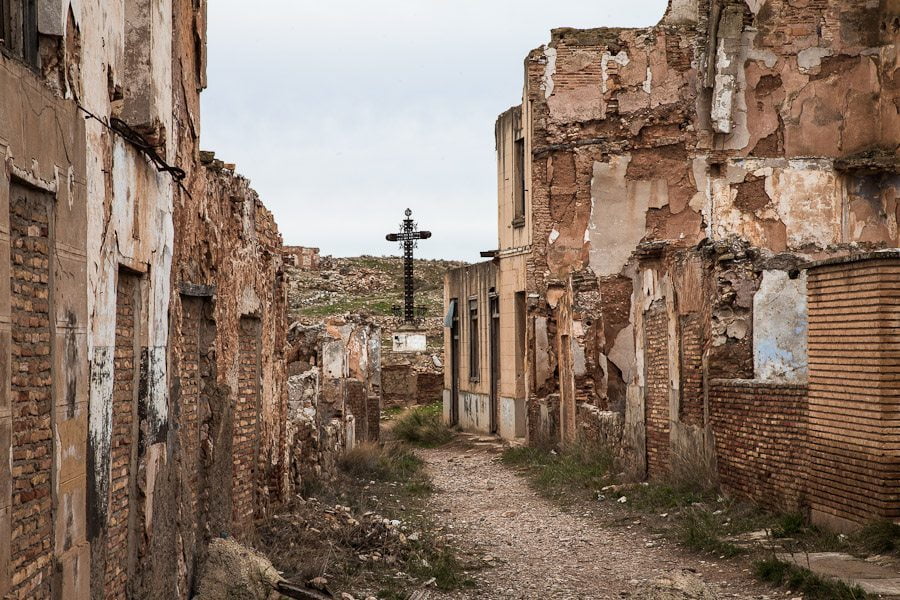 I later saw that we had walked along what was once the high street into the town square where a cinema once stood.  Shops and houses once lined the roads either side.  There were the remains of 2 churches,  San Martin and San Juan,  and the remains of the Convent of san Augustin.  We walked through all of these ruins with no other people around.  James climbed up one of the church towers,  finding no easy way up but scrabbling like the young can,  he eventually emerged some 50 or 70 or 100 feet above me laughing.
The story behind the devastation is not as lyrical as our adventures that day on a warm November morning and was of such terrible significance it had a battle named after it.   The Battle of Belchite refers to a series of military operations that took place between 24 August and 7 September 1937 and describes the Republicans' plans to seize the poorly defended city of Zaragoza.  Not only was it the regional capital but it was also the communication centre for the whole Aragon front.  The Republican Army of the East, together with the XI and XV International Brigades, started its offensive with eighty thousand men, three aviation squadrons with ninety aeroplanes in total and one hundred and five tanks.  The Army planned to burst through at seven different points on a one hundred-kilometre front between Zuera and Belchite,  stretching the Nationalist's 3 divisions,  then taking Zaragoza. Several towns were successfully taken but the fiercest resistance was encountered in Belchite, where seven thousand Nationalist defenders resisted until 7 September when Republican troops finally took it. These delays allowed the Nationalists to bring up reinforcements and the full-scale offensive on Zaragoza failed.  The Republicans only managed to push the Nationalist line back some 10 miles.
Anthony Beevor, historian, in his book The Battle for Spain: The Spanish Civil War 1936-1939 describes the scene as 'a smoking ruin of death, smashed masonry, dust and corpses, both human and animal'. He further describes that much of the devastation occurred on the the first day, when planes flown by 'the first Spanish pilots to graduate from training schools in the Soviet Union' were supported by artillery, then by tanks and 'much of the town was reduced to rubble'.  It is not known how many casualties there were.
A stalemate lasted until the following year when Nationalist forces retook the town and finally repelled the threat.  The whole town was destroyed. Franco ordered that the ruins be left untouched as a "living" monument of war. A new town was constructed near the former. The holes and caves in Lobo Hill south of Belchite from where the Spanish Republican artillery positions fired towards what is now Belchite Old Town have been preserved and are open to visitors.
We are staying for 2 weeks in a hotel in the new Belchite and will proceed to the old town daily. The middle weekend is spare time and free either for relaxation or to visit Zaragoza. Some lectures will be organised to extend our knowledge of the history of Belchite, the Spanish Civil War and the relevance of our archaeological efforts.
The larger, macrocosmic picture of the Battle of Belchite is in itself interesting, but discovering the microcosm of who lived in the house, and finding answers such as was it a family, how old were the occupants, what were their interests, hobbies, occupations will be of even more interest.